Are Hugh Grant and Sarah Jessica Parker the Next Bogart and Bacall?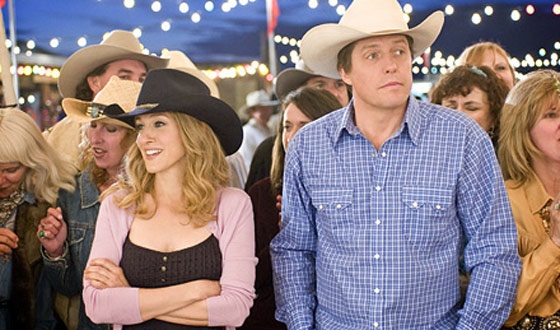 Our long national nightmare is over: Hugh Grant and Sarah Jessica Parker are teaming up once again for the romantic comedy Did You Hear About the Morgans? Phew! It's been a long, desolate dry patch for moviegoers since the two starred in together in Extreme Measures (1996). What other Hollywood non-couples love to fake it with each other on-screen? Read on…

Kate Hudson and Matthew McConaughey
This pretty blond pair first teamed up for How to Lose a Guy in 10 Days (2003). McConaughey's relaxed vibe clicked so well with Hudson's shrill shtick that despite lacking much in the way of plot, How to Lose a Guy opened at No. 1 at the box office. So it was only natural that the pair were reunited for Fool's Gold (2008), basically a rehashing of the same movie with a slight twist (treasure at sea!). That one did well too, so it's probably not the last you'll see of this golden couple.

Drew Barrymore and Adam Sandler
Unlike tanned gods Hudson and McConaughey, Sandler and Barrymore have a down-to-earth, goofy chemistry. In The Wedding Singer (1998), Sandler wooed Barrymore with '80s tunes, bad hair and dated pop-cultural references. And wouldn't you know, Sandler and Barrymore got back together for 50 First Dates (2004). In it, Sandler is once again a goofy regular Joe in love with a goofy Barrymore, who has amnesia. Here's hoping they've got more ideas up their sleeves.

Kate Winslet and Leonardo DiCaprio
If you'll recall, Titanic (1997) was one of the most popular movies of all time, so it's not surprising that people want to see more of Winslet and DiCaprio. The pair reunited to play full fledged adults — of the miserable '50s suburban variety — in Revolutionary Road (2008), a flick even more angsty than Titanic. If Hudson and McConaughey are the pretty pair and Barrymore and Sandler are the funny ones, Winslet and DiCaprio are definitely the dramatic duo of this bunch.

Meg Ryan and Tom Hanks
Ryan and Hanks are the modern gold standard by which all repeat movie couples are held to. In You've Got Mail (1998),
the pair reteamed for Sleepless in Seattle (1993) writer/director Nora Ephron to make a seemingly identical movie. While anyone can excuse second-tier actors like McConaughey and Hudson for using this strategy, it seemed like Hanks and Ryan would be above this. Nope! But no matter — movie fans love these two so much, the film was a hit nonetheless.

Julia Roberts and Richard Gere
Given that Pretty Woman launched Roberts's career and gave Gere one of his defining roles, it's no wonder Runaway Bride (1999), which reunited the pair, was such a big hit. This time Roberts is a runaway bride, not a hooker, and Gere is a journalist writing about her, and wouldn't you know it, they fall for each other. That sound you just heard was Roberts and Gere cashing in on their idiosyncratic on-screen chemistry.

Nicole Kidman and Tom Cruise
Kidman and Cruise met on the set of the race car drama Days of Thunder (1990) and divorced less than two years after the release of their second, and final, movie together, Eyes Wide Shut (1999). The Kubrick drama caused a flurry of rumors alleging everything from affairs to Cruise paying Kidman to be his wife to cover up the fact that he was gay, so it was no surprise when the two split up shortly thereafter. Alas, that was to spell the end of their on-screen love affair as well.

Diane Keaton and Woody Allen
Woody Allen sure has no shame about casting beautiful women to play his lovers in his movies, and Diane Keaton plays his feminine foil in some of his best works. To wit, the pair starred opposite each other in Annie Hall (1977) and Manhattan (1979). To this day Keaton and Allen's witty banter and strangely captivating chemistry in Annie Hall is the stuff of legend and the only slightly less compelling Manhattan offered more of the same.

Lauren Bacall and Humphrey Bogart
Like Allen and Keaton, Bogart and Bacall's romancing extended beyond the screen, with the added twist that Bogart was a disturbing 26 years older than Bacall and called her "baby." The two began their movie and real-life love affair with To Have and Have Not (1944) and immediately followed it up with The Big Sleep. Of course, this pair may not have even been America's favorite on-screen couple with
a semi-secret real-life relationship thanks to the liason undertaken by…

Katharine Hepburn and Spencer Tracy
Tracy and Hepburn were the Meg Ryan and Tom Hanks of the mid-twentieth century. Starting with Woman of the Year (1942), they became Hollywood's leading on-screen pair, providing witty banter and lessons on gender relations in classics like Adam's Rib (1949) and Guess Who's Coming to Dinner? (1967). The two continued their real-life relationship until Tracy died in 1967. Alas, Hepburn didn't attend the funeral, as Tracy had never formally divorced his wife! Dramatic both on-screen and off, those two.

Read More