Well Howdy, Partner – Cinema's Sexiest Cowboys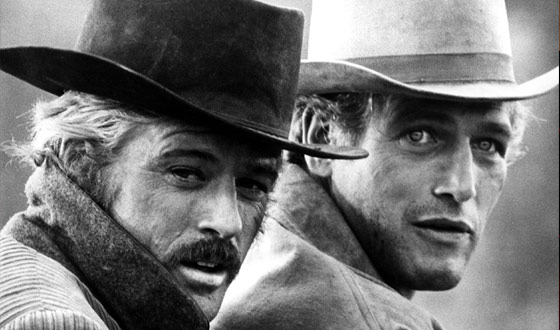 What's the attraction to cowboys? Hapless heterosexual that I am, I might seem a poor choice to rank the sex appeal of these nomads of the frontier. But I do have a clue into why women find them so attractive — and it's not the ever-present perfume of cow manure that lingers upon their manly frames. Let's take a look at the silver screen's greatest studs…
Jack Twist (Jake Gyllenhaal) in Brokeback Mountain (2005)
The conventional heartthrob of this movie might be Heath Ledger as Ennis Del Mar (After all, Ledger starred in Casanova.) Ah, but exactly who seduced whom?! All it took was a pint of liquor and a few knowing glances for Twist to entice Del Mar's curiosity. Gyllenhaal clearly is something of a Don Juan himself, even if he doesn't look the part — let's chalk up that mustache he sports in the movie's second half to a temporary lapse in judgment.
Maverick (Mel Gibson) in Maverick (1994)
Women like to laugh. Unfortunately, most cowboy jokes center on beans and farting — so how refreshing it must be when a stranger comes along to lighten the mood with a little irony. That man is Bret Maverick, a gambler who always has a joke or two up his sleeve. It isn't much of a risk to bet that by the end of this movie, Maverick's ample charms will melt the heart of ice queen Annabelle Bransford (Jodie Foster).
Doc Holliday (Val Kilmer) in Tombstone (1993)
How does a tubercular alcoholic with a gambling problem manage to pull in the chicks? That easy — with a drawling accent and witty repartee. As the bon mots circulate, it's easy to see how Doc Holliday's danydish riffs get the ladyfolk to ignore his jaundiced complexion and infectious disease. For all his thorny charm, he's able to win the heart (and nostrils) of his main squeeze, Big Nose Kate (Joanna Pacula).
Gus McCrae (Robert Duvall) in Lonesome Dove (1989)
Don't dismiss him just yet! He may be be old and wrinkly, but darn it, Old Gus has got bucket-loads of charm, and his persistence allows him to draw the smile of decades younger Lorena Wood (Diane Lane). Gus is the dark horse when it comes to competing for her affections against her many suitors, but McCrae proves that youth doesn't always win out. All in all, Gus is lesson to all on how to gracefully age into a dirty old man.
Lane Frost (Luke Perry) in 8 Seconds (1994)
For Picasso, the bull was a symbol of sexual ferocity, so it's no wonder that women are drawn to the men that face them in the ring. And given such physical displays, it's impossibly easy for young ladies to speculate on how their guy's skills on those bucking beasts might cross over to the bedroom. For rodeo star Lane Frost (Luke Perry), it proves a powerful aphrodisiac to main squeeze Kellie Kyle (Cynthia Geary). Here's hoping he lasts more than eight seconds!
Butch Cassidy (Paul Newman) and The Sundance Kid (Robert Redford) in Butch Cassidy and the Sundance Kid (1969)
For women open to unconventional relationships, this film's ménage a
trois shows that this dapper duo doesn't mind sharing. It doesn't hurt that both bank robbers are a pair of charming rapscallions: Redford sports a sandy beach bum look, Newman has those steely blue eyes. Their combined sexual attraction manages to attract the interest of Etta Place (Katharine Ross).
Joe Buck (Jon Voight) in Midnight Cowboy (1969)
Buck had skills all right. This good ol' Texan was quite a lady's man. But his big mistake was taking his craft to New York City — and trying to turn it into a vocation. Because, of course, what plays in the sticks doesn't cut it in the Big Apple. The result is a liaison with an Upper East Side cougar, and a friendship with Ratso Rizzon thanks to Buck's application of his small-town naiveté and boyish good looks. An A for effort.
John Wayne in McClintock! (1963)

Here, Wayne's iconic swagger provides a powerful mating call. But it's also a difficult move, so I wouldn't suggest trying it without careful training and study of his films. While Wayne often eschews romance, as hunk cattleman George McLintock, even his irascible ex (Maureen O'Hara) can't
resist his temptations. The Duke's strategies may be unorthodox but they work. Let's all mud-wrestle, shall we?
Matt Garth (Montgomery Clift) in Red River (1948)
Who's the bigger stud in this cattle-driving movie? Clift or John Wayne? Clearly
Wayne is of a different generation and doesn't understand what a new
generation of women want. Wayne is brash and authoritative; Clift is strong, silent, and plays it cool when charming Tess Millay (Joanne Dru) — who both cowpokes lust after. Wayne loses out to the dashing and sensitive Clift, but that doesn't mean he can't woo a woman. (See above.)
Lewt McCanles (Gregory Peck) in Duel in the Sun (1946)
Women sure like men who treat
them like dirt. In the pantheon of cinematic bad boys, next to Marlon Brando's
Stanley Kowalski stands Gregory Peck's Lewt McCanles. An outlaw, scoundrel, and killer, McCanles plays some heavy psychosexual mind games with luscious Pearl (Jennifer Jones). Nonetheless, since both die in the end, don't attempt this technique unless you're OK with expiring in the flames of your passion.
Read More