Web Stalker – New Moon Mania… Not Just for Tweens Any More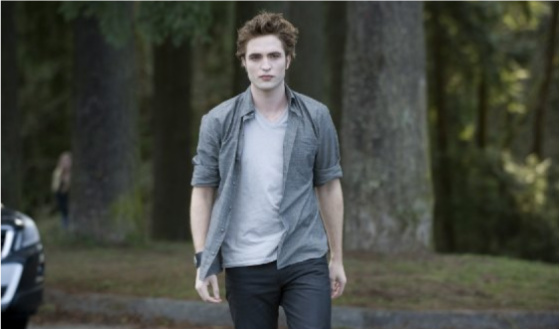 If you're a movie fan prone to frequenting blogs such as this one — or if there's a woman of pretty much any age, shape or size in your life — chances are you already know more about teen heartthrob Robert Pattinson than you care to admit. His relationship with Kristen Stewart. His "shyness." His smell! And so on. And if the tsunami of online buzz is any indicator, the upcoming sequel to his star-marking hit New Moon won't put a damper on things.
So what are people saying as we move into the final stretch of waiting-for-New–Moon mania? Admit it, you're Twi-curious….
As AllThingsD put it, "Oh dear, just a single week away and Twitter, Facebook, YouTube and every gossip site on the Web is aflame in expectation of the second installment of the young-vampires-in-lust movie series, Twilight: New Moon."
She's not exaggerating. AndyAtTheMovies speaks to and for the men-who-are-forced-to-see-New–Moon contingent. "You're a dude," he hypothesizes. "You like the ladies. Your girlfriend/wife/significant other wants you to see The Twilight Saga: New Moon, but you can't think of anything more excruciating. A trip to the dentist for a root canal sounds better… Well, fellas, say hi to Ashley Greene." Make this your mantra: "There are vampire girls too."
MomsWord reacts to the news that Mattel is releasing a Jacob Barbie doll (Edward and Bella have already gotten the doll treatment, naturally) with a surfeit of exclamation points and somewhat undignified discussion of the little guy's six-pack. Perez Hilton was moved to comment after Burger King announced that it had teamed up with Summit Entertainment to release a New Moon prize pack. ("We know where your allowance is going this week!") Author Stephenie Meyer has even lent her voice to the fray, checking in last week to blog about her appearance on Oprah this past Friday: "You know I've been doing the hermit thing this last year, in so far as media is concerned, and I'm not changing that now, but I am making an exception… And since I'm only doing one interview, better make it big. Really big." We get it: Oprah big.
The movie's IMDB messageboard is burning up, predictably, and SlashFilm gives some hilarious analysis: "The Twilight Saga: New Moon hasn't even hit theaters yet, and as far as I can tell hasn't had many advance screenings, yet the sequel has already been voted on by over 1,700 users on the Internet Movie Database… The funniest thing about the rankings is the demographics behind the votes The average male user rating is a 3.3, while the average female user rating is an 8.0. And while females under 18 rate the film a 8.7, the most popular demo is the 'Twilight Mom,' females aged 30-44, which have given the film an average rating of a 9.9. Wow."
Nikki Finke points out a Fandango survey that supplies another hilarious set of stats: "Ninety-eight percent say the action in New Moon looks better than the action in Twilight. Seventy-two percent plan to see the movie with a group of three friends or more. Fifty-two percent of survey respondents say they dream about vampires. Twenty-two percent are mothers and daughters planning to see New Moon together. Ten percent plan to show up at the theater dressed as the saga characters." Not that you could tell a teen girl dressed like Bella from a teen girl dressed like… a teen girl, but it's the thought that counts.
Of course, not everyone is so enamored of all things Cullen. Responding to the news that rockers Death Cab for Cutie would be touring our nation's Hot Topic stores (!) in support of the New Moon soundtrack, Fearnet snarks, "Let the revoking of the indie credentials begin!"
Meanwhile, buzz is already heating up on the next installment in the Twilight franchise, Breaking Dawn! Collider reports that Pattinson himself came out and said that filming is tentatively scheduled to kick off next fall, but the site cautions, "What you need to realize is many things change. Perhaps New Moon doesn't do as well at the box office as the first Twilight movie. Or perhaps they can't get the script right. While things might change, Pattinson's statement… is the first time anyone in the cast has admitted there is a plan."
Uh, not to be overly critical, Collider, but does anyone else out there think there's even a chance this movie won't do well? That's just crazy talk.
Read More