Web Stalker – Milla's On-Set Tweets Are Bringing Buzz to Resident Evil 4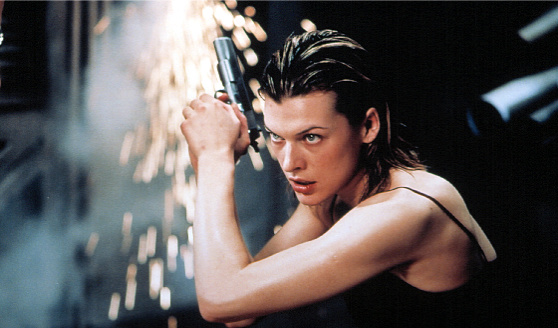 Say what you will about the Resident Evil franchise, but it's hard to deny that Milla Jovovich has given the zombie genre a swift kick in the rotting backside… not to mention a welcome injection of hotness. The model-turned-actress first showed up, guns a-blazing, in Resident Evil (2002) and subsequent chapters of this video-game adaptation have been her bread and butter ever since. Her occasional appearances in other movies, in fact, are either variations on the theme (Ultraviolet) or horror flicks that place her on the other end of the hunter-hunted spectrum (The Perfect Getaway).
Two critically-reviled Resident Evil sequels later, the gorgeous zombie stomper has taken her guns out of retirement for the next iteration: Resident Evil 4: Afterlife, in 3D. A production that might normally have been a bit of a yawn is grabbing bloggers' attention, in part because — stop the presses, friends — Milla's joined Twitter!
Man, how times have changed," muses DreadCentral. "Twitter has changed just about every single part of the game. It used to be that we had to wait a month for a magazine to come out to get the scoop on what's going on with our favorite flicks. Now we can get instantaneous updates as they happen. Such is the case with Milla Jovovich. Right now she's tweeting live from the set of Resident Evil: Afterlife…"
Naturally, every movie-loving mouth-breather worth his salt has picked up the news. (You'd think these guys had never met a supermodel!) "Twittering at a break-neck pace — but can she keep it up?!" wonders Kotaku. Bloody-Disgusting is calling it "The Milla Jovovich Twitter Onslaught" and NewsInFilm goes so far as to say, "The Twitter feed may end up being more interesting than the movie itself."
So, what has she actually been saying, you ask? Well, here's what we've learned: It's brutally cold where they're shooting. Ali Larter's butt looks good. Milla's costume incorporates a "butt bra." There's a lot of violence. 3D shooting is a pain in the neck. And she calls co-star Wentworth Miller (late of TV's Prison Break) "Wenty." Awwwww… that's so cute.
Now, what could be better than Milla tweeting every five seconds from the Resident Evil set? Why, photos of course! Just after the blogosphere discovered Jovovich's Twitter feed, ShockTillYouDrop broke the first shots of the stars surrounded by mysterious white-clad figures on-set. "On the heels of actress Milla Jovovich tweeting these updates from the set of Paul W.S. Anderson's Resident Evil: Afterlife," they rejoiced, "Two pics from the set have surfaced online!" Web Stalker has to agree with his next observation: "I would have had a laugh if one of these pics actually showed Jovovich furiously tweeting on her phone…." It could well have happened, as Milla took straight to Twitter to discuss the photos. "We call the people in white 'pod people' here on set," she explains. "They have been used as Umbrella 'test subjects' in horrifying experiments…"
Bottom line: If you're a Resident Evil fan, you need only follow Milla's Twitter feed to learn everything you want to know about the new flick and then some. As CinemaBlend sums it up, "If all that's not enough Resident Evil 4 news for you, then well, I really don't know what to tell you." Agreed!
The only potential downside to all this sharing? "She's awesome for doing it," laments one fan, "But [if she keeps] tweeting non-stop… we'll know the entire plot of the movie before it hits the screen."
Of course, that's only if you can't stop yourself from reading.
Read More