Uncategorized
Flashback Five – Tween Sensations (Twilight: New Moon, You're Nothing New)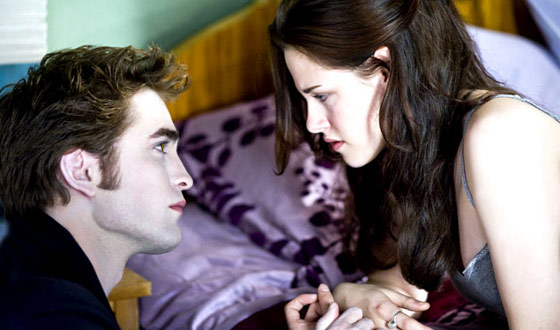 So which team are you on? Team Jacob? Team Edward? Team What-the-Heck-Is-He-Talking-About? Whichever side you choose, there's no denying that Twilight is a sensation. Except… There's nothing here we haven't seen before. Think The Coreys. Think Luke Perry. It's all just a wash of screaming, crying prepubescent girls. So if you feel like Twilight fever will never end, take a look back at the biggest tween sensations of the last decade or so. Take solace: Nothing lasts forever…
1. Twilight (2008)
Every couple of years, tweens get all excited up about vampires again. First, there was The Lost Boys. Then, there was Buffy the Vampire Slayer. This time around, it's Twilight. The first Twilight movie rocketed Robert Pattinson to dreamboat status. This weekend, he's back…and dreamier than ever.
2. High School Musical (2006)
Drop the snide comments about High School Musical 3. The first movie in this song-and-dance bonanza rates as the biggest where-the-heck-did-that-come-from success in recent movie history. The second one counts as an equally surprising, how-the-heck-did-they-do-that-again. Zac Efron and Vanessa Hudgens are now household names. Now that's tween power!
3. Harry Potter (2001)
The juggernaut that is the Harry Potter franchise was driven to success by an audience of underage readers. And it all kicked off here, with a trio of actors who were pre-destined to be tween idols, anchored by a bespectacled Daniel Radcliffe that set the young lady's Twitter feeds a-blazing. And they're not done yet! There are two more surefire hits still to come.
4. Bring It On (2000)
On a lazy weekend towards the end of August in 2000, this cheerleader comedy powered to a surprise first place finish at the box office, mostly due to great word of mouth among teenyboppers. The movie went on to achieve enough cult status to make stars of many of its actors, including Kirsten Dunst and Gabrielle Union, and spawn four (four!) TV/Direct to DVD sequels.
5. Titanic (1997)
If you ever doubt the power of a tween audience, look no further than the biggest box office earner of all time. This movie opened huge and continued to earn the same amount of money weekend after weekend, as young teens in love with Leonardo DiCaprio kept coming back for more. In fact, Titanic's biggest single day of ticket sales was on February 14 — a full three months after the movie opened!
Honorable Mentions:
1. Hannah Montana: The Movie (2009) – Who's the biggest star in the world? Not Angelina Jolie, or Julia Roberts. It's Miley Cyrus, who's role as Hannah Montana drives tween fans into a frenzy.
2. Step Up (2006) – Twilight is to vampire movies what Step Up is to dance movies, and every once in a while, one of the latter grabs tweens and gives them a twirl.
3. A Walk to Remember (2002) – Daydreaming adolescents flocked to see idol Mandy Moore in this squeaky clean romantic comedy that smashed through the box office despite a critical bashing.
4. The Lizzie McGuire Movie (2003) – Before Miley, there was Hilary Duff, whose Lizzie McGuire movie created a riot when released.
5. Lord of the Rings: The Fellowship of the Ring (2001) – You can mostly attribute the success of the LotR movies to fantasy nerds, but it was also due to the devotion of young girls in love with the androgynous Orlando Bloom.

Read More