Uncategorized
Flashback Five – Ian McKellen's Finest Movie Moments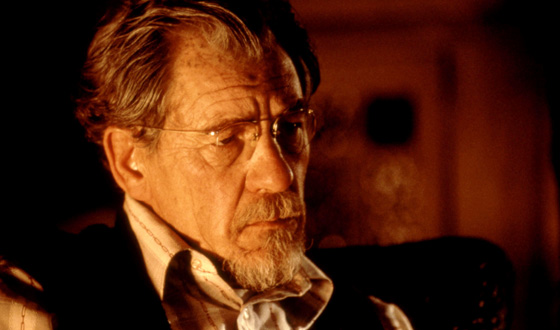 Starting this Sunday, we'll all know him as Number Two. But until The Prisoner premieres, Ian McKellen will continue to be known for his impeccable gravitas and his stunning performances as one of the greatest actors of our time. McKellen actually got a late start, working for years in smaller roles and sticking mostly to the Shakespearean stage — but he's more than made up for that in the past twenty years. Read on for a summation of his greatest big screen hits.
1. The Lord of the Rings (2001)
You could probably pick any of the three movies from McKellen's most famous role, the Middle-Earth wizard Gandalf, but for our money, The Two Towers showcases the best of the lot. Killed at the end of the first movie, McKellen gets a spectacular sequence in the next in which he explains that he came back to life by eating moths and flying to freedom on giant eagles' wings… An explanation which, despite how silly it sounds, is totally sold by McKellen's magnetic performance.
2. X-Men (2000)
Speaking of which, McKellen's second most famous role is that of Magneto, Master of Magnetism, in the X-Men movies. Though McKellen is center stage in the first movie, it's his complicated portrayal of Eric Lensherr, and his relationship with Patrick Stewart's Professor Xavier that form the backbone of the series. Superheroes can often come off as silly, but McKellen's Magneto is nothing less than a threat to be reckoned with, and sometimes, pitied.
3. Apt Pupil (1998)
If the X-Men series shows us anything, it's that McKellen excels at portraying humanized monsters. That all started with this Stephen King adaptation, which casts McKellen as a Nazi war criminal in hiding who is drawn back into a life of murder by a manipulative high school student (Brad Renfro). The movie's complicated morality is perfectly showcased through McKellen's terrifying, heartbreaking portrayal.
4. Gods and Monsters (1998)
Sensing any sort of pattern here? McKellen stars as the late film director James Whale, whose complicated sexuality and old age entangle him with a naïve but sweet gardener, played by Brendan Fraser. McKellen was nominated for an Academy Award for this performance, which set the tone for many of his later works.
5. Richard III (1995)
The movie that rocketed McKellen from "oh, that distinguished guy in the background!" status to full-fledged movie star, this Shakespeare adaptation casts McKellen as the titular monarch in an anachronistic, '30s-inspired version of England. The portrayal bridges the gap between McKellen's stage work and his film work, and despite not necessarily tearing up at the box office, the movie McKellen on the map as a hot new actor to watch — at 56 years old.
Honorable Mentions:
1. Bent (1997) – For this brutal adaptation of Martin Sherman's play about the Nazi persecution of homosexuals in Germany, McKellen takes on the small, but crucial part of "Uncle Freddie."
2. Cold Comfort Farm (1995) – Right before hitting it big in Richard III, McKellen played an over-the-top preacher in small town England, stealing every scene he was in.
3. Last Action Hero (1993) – Any McKellen fan knows that Sir Ian appears in a cameo as Death in this Arnold Schwarzenegger disaster, which is nowhere near as bad — and far more fun — than you remember it to be.
4. Six Degrees of Separation (1993) – McKellen stars as a South African businessman in the movie adaptation of John Guare's play as a favor to the director, yet instills as much good humor in the part as he does any other role.
5. The Ballad of Little Jo (1993) – Though only appearing briefly in this movie, McKellen perfectly forecasted his ability to vacillate between kindness and quiet terror as an irascible man who takes in the vagrant Jo.

Read More