The Ten Faces of Billy the Kid – From Paul Newman to Emilio Estevez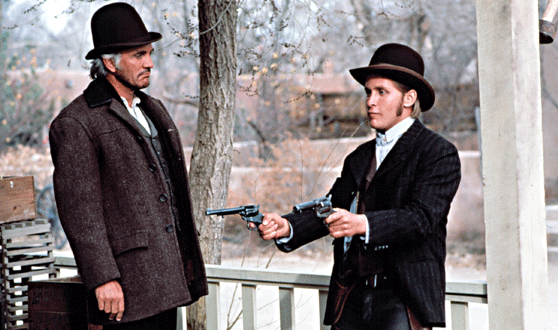 Think you know Billy the Kid? Think again. Sure, tenderfoot, you might be familiar with the gunslinger's murderous exploits in Arizona's Lincoln County War. But what about the Kid's run-ins with the Three Stooges, Dracula, and, most fearsome of all, Lou Diamond Phillips!? Read on, if you dare to upset your fragile little world of historically verifiable facts…
Emilio Estevez in Young Guns (1988) and Young Guns II (1990)
One thing this movie gets right is Billy's baby face. Brat Packer
Emilio Estevez is adorable with his two little guns,
playing cowboys and Indians. Alongside his compatriots, Estevez is a hot-shot hot-head that recalls the brand of male maximalism perfected
by Tom Cruise in Top Gun.
In the second film, Estevez's twin pistols are put firmly in the
spotlight as the movie tracks his daring jail break and death… or did he
really die after all? Mysterious!
Michael J. Fox in Back to the Future III (1990)

"Billy the Kid? What kind of stupid name is that?!" mutters Biff's
ancestor in this homage to the gunslinger that's really in name only. In any case, Fox's Marty McFly
seems to have more wits than his namesake, even if he doesn't exactly
have the pistol smarts. While Billy trained on the open range, Fox's
target practice is mostly done at the arcade.
Val Kilmer in Gore Vidal's Billy the Kid (1989)
Before his decisive turn as a drawling Doc Holliday in Tombstone,
Val Kilmer tried his (left) hand at playing the Kid. This
made-for-TV-movie flew under the radar for most fans, but it was based
on Gore Vidal's play, which was also the basis for The Left Handed Gun.
Like that movie, this one reworks the Billy the Kid into a story of a
misunderstood youth, although it's likely Kilmer's bucktoothed Kid comes off somewhat more like a killer hillbilly than Vidal had in mind.
Dan Shor in Bill & Ted's Excellent Adventure (1989)
Like
his young escorts in this iconic '80s stoner comedy, Billy is a happy-go-lucky goofball. And being the strapping young man that he is, he's
used to getting into danger, even if nothing he's ever done has
prepared him for the ennui of consumer society, the blandness of shopping
malls, and the hell of American high school.
Kris Kristofferson in Pat Garrett & Billy the Kid (1973)
Outlaw country singer Kris Kristofferson was the perfect choice to play
this grungy, hippie version of Billy the Kid. With his fringed jacket,
long hair, and anti-establishment views, the rustic rogue loves nothing
more than stickin' it to the man and livin' free. His freewheeling portrayal was complemented by Bob Dylan's soundtrack, although Billy's
refusal to "sell out" spells his doom in the end.

Geoffrey Deuel in Chisum (1970)
Could
John Wayne ever be friends with an outlaw like Billy the Kid? Well,
necessity makes strange bedfellows. As a cattleman caught in the
middle of the Lincoln County War, Wayne's got to choose between the
lesser evil if he wants to make it out with his life. That means
banding together with fellow rancher Henry Tunstall and his callow
charge, Billy in a partnership that's as fun for the viewer as it is fraught for them.

Chuck Courtney in Billy the Kid vs. Dracula (1965)
Since ranch owners
are so often portrayed as blood-sucking opportunists in Westerns, it's no
surprise that the fanged one here takes the form of a cattle baron.
The chief conflict is a knock-out grudge-match
pitting "The West's Deadliest Gun-Fighter!" against "The World's Most
Diabolical Killer!" This one actually delivers its fair share of campy fun, and the faithful can
continue their journey with Jesse James Meets Frankenstein's Daughter.
Johnny Ginger in The Outlaws Is Coming (1963)
When the Three Stooges (newspaper reporters now, it seems) stumble into
the Wild West, they're forced to defend themselves against a posse of
fearsome outlaws. That includes one William H. Bonney, aka. Billy the
Kid. But while the Kid's blazing six-shooter might prove fearsome to
ordinary folk, these three nincompoops are used to putting up with
punishment and hit back hard with a barrage of face-slaps, eye-gouges, and bad jokes.
Paul Newman in The Left-Handed Gun (1958)
Is what Billy needs parental guidance? That's the sense we get from this '50s "troubled teenager" take
on his tale. Taking a cue from Rebel Without a Cause and The
Blackboard Jungle,
Paul Newman's Kid is depicted as a young hooligan from the Marlon
Brando school of brutal-but-gentle delinquents. It's also one of the first attempts to depict the outlaw in a psychologically
realistic way.
Johnny Mack Brown – Billy the Kid (1930)
In this movie from the great King Vidor, the Kid gets cast as equal
parts hero and villain: He's brave, sure, but he's also an unscrupulous
killer. That ambiguity apparently puzzled Hollywood bigwigs, which was why two endings were shot — one in which Billy gets slaughered by Pat Garrett, and
another where he rides off into the sunset. Can you guess which one made it to theaters?

Read More