Ten Reasons Comic Book Movie Fans Are Thankful in 2009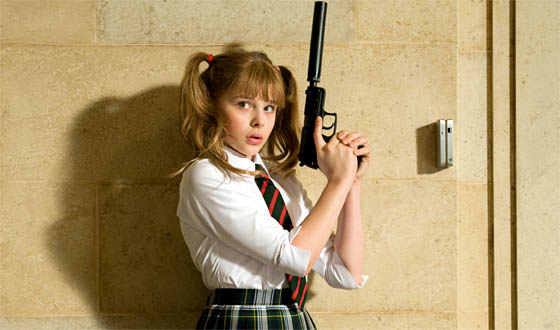 As we approach Thanksgiving, it's important to focus on the best things in life: Food, family and of course, quality comic book movies. It's good to be a comic fan these days, with new, diverse projects announced almost daily. We've come a long way from the days when the "comic book movie" label was the ultimate cinematic insult. Here are a few things fanboys can be thankful for this holiday season.
Special Effects Have Caught Up to the Characters


During the '90s, there were two movies that James Cameron wanted to make: Spider-Man and Avatar. (We all know what became of that second one.) Can you imagine how cheesy a Spider-Man movie would have looked had it come out in 1994? Tom Cruise would've probably starred, giving everyone's favorite wall-crawler a crazy laugh. The Spider-Man series came out at a perfect time, when special effects wizards could make us believe in the images filmmakers imagined. The same holds true for Iron Man and the upcoming Thor movie: You can only imagine how ridiculous Asgard would've looked had it been created by the team behind, say, Waterworld.
Great Actors Are Lining Up to Play Hero


Time was, when great actors showed up in a comic book movie, it was akin to Faye Dunaway camping it up while mentally cashing a paycheck in Supergirl. But these days, getting cast in a superhero flick is a sign that you've hit the big time. Witness the recent Thor casting news: Not only do we get Anthony Hopkins as Odin, but now The Wire's Idris Elba has signed on as Heimdall. Yes, Ray Stevenson is playing one of the Warriors Three. But he was in Rome before growling his way through Punisher: War Zone, so he gets a pass.
Kick-Ass and Scott Pilgrim Bring the "Comic" Back to Comic Book Movies


Based on the new snarktastic trailer for Kick-Ass, comic book movies are now in their "meta" phase. Tropes like the origin story and the earnest teen hero narrator are so ingrained in pop culture, they've finally been taken down a peg. The Kick-Ass and Scott Pilgrim comics both ably mix comedy with good old-fashioned punching and kicking, and could usher in a new era of self-aware comic book flicks. And let's not forget next summer's Iron Man 2, scripted by Tropic Thunder's Justin Theroux. Could "brisk and snarky" be the new "grim and gritty"?
The Rocketeer Has Yet to Be Remade


I previously wrote about how The Rocketeer is one of the most underrated comic book movies of all time. It's also a straight-up perfect movie — fast-paced, well cast, action-packed and just plain fun. Writers Danny Bilson and Paul De Meo envisioned Rocketeer as a trilogy, but poor box office numbers ensured that it would never come to pass. The movie has developed a cult following over the years, yet remarkably it hasn't come up for a remake. With The Crow update on the way, it's safe to say the '90s remake floodgate has openeed. But for now at least, Rocketeer fans have been spared.
The Awesome Bonus Features on the Howard the Duck DVD


We live in an age where every movie gets the super deluxe edition DVD treatment. Which makes sense for something like Watchmen. But Howard the Duck, the notorious George Lucas produced bomb? While you may scoff, the bonus feature documentary on the recent special edition DVD (which details the troubled production and subsequent box office belly-flop) is surprisingly fascinating. As is watching Lea Thompson and writer/director Willard Huyck try to defend a flick that features naked duck breasts in its first ten minutes.
And five more things to be thankful for…
Anne Hathaway (or Rachel McAdams or Julia Stiles) in Spider-Man 4 – Whichever of these three get cast as the Black Cat, fanboys will be happy.
Dane Cook Will Not Be The Riddler – This nasty rumor has been circulating on the Internet. Luckily the only person that wants Dane Cook to play The Riddler in Batman 3 is Dane Cook.
Stan Lee Is on Twitter – For those of us who miss the old "Stan Lee's Soapbox" from his Marvel Comics days, this feed is pure joy, in 140-word increments.
Watchmen Director's Cut Nite Owl Ship DVD set – Whatever your opinion of the movie may be, you have to admit that the Owl Ship would look pretty sweet on your shelf.
The Insane Casting for Red – Everyone from Helen Mirren to Ernest Borgnine(!) has signed on for the upcoming adaptation of Warren Ellis' awesome spy comic.
Nick Nadel writes for places like HBO and Asylum.com, and is the "geek" blogger for GuySpeak.com. Follow the Comic Book Movies column on Twitter for more superhero news and views.
Read More