Stacie Ponder – Five Rockin' Horror Picture Shows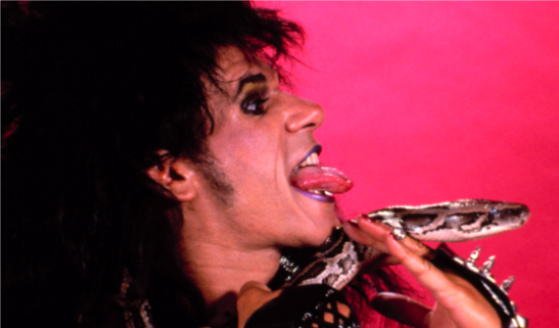 Forgive me if I sound old, but isn't rock and roll supposed to be a little… dangerous? That's what politicians are always saying: You know, how listening to wailing guitars, pounding drums and screeching vocals will send you down the road that can only end with your being crowned Satan's Little Helper. And never mind what will happen if you listen to the music backwards!
Now, I'm not entirely sure what "rock and roll" is anymore, or whether or not it still exists in today's corporate-driven music scene (see — told you I was old), but back in the day, rock had a fearsome reputation as a corruptor on par with… well, sex and drugs. So you might reasonably assume that rock music and horror movies would make awesome bedfellows. But you'd be wrong; there are fewer tasty, rock-flavored horror flicks out there than you'd think.
Mind you, I'm talking about movies in which rock music is essential to the plot. Not horror/rock operas like Repo! The Genetic Opera. Not movies with a heavy soundtrack, like Demons. Horror movies about rock and roll, of which there are sadly few. In the late 1980s, though, they were all the rage, much like dancing raisins and black market Simpsons T-shirts.
Each movie in this little subgenre is like a blood-soaked time capsule, hearkening back to a time when you could indulge in studded bracelets and hairspray with abandon while banging your head to music that was sure to stain your soul. Ahh, the good ol' days.
New Year's Evil (1980)
OK, so maybe it"s a bit more punk rock than hard rock — but still, rock plays a central role in this cheestastic slasher. DJ "Blaze" rings in the new year with a live stage show that puts Dick Clark and his "Rockin' New Year" to shame, but the festivities turn sour when she receives a startling phone call: Some wackadoo promises to kill a person whenever a new time zone hits midnight… and the evening will end with the murder of Blaze herself. Between the colored hair, the "punk" music and a star performance by Roz "Pinky Tuscadero" Kelly, New Year's Evil is a horror rock nostalgia trip.
Trick or Treat (1986)
The holy grail of rock and roll horror movies is Trick or Treat, the movie that proves once and for all that vinyl records are, in fact, a playground for evil! When "Satanic" rocker Sammi Curr dies in a hotel fire, his mullet-wearing, number-one fan, Eddie, is beside himself with grief. When he receives a copy of Curr's last record, he wastes no time before playing it backwards, which allows Eddie to communicate with the dead shredder. They make a pact to punish the bullies who hound Eddie, and soon the vengeful Curr is unleashed on the local high school populace. With cameos from Ozzy Osbourne and Gene Simmons — not to mention a death by stereo sequence — this is the reigning champ of cheesy horror rock movies.
Slumber Party Massacre II (1987)
The original Slumber Party Massacre is a both a straight-up slasher film about a guy with a giant power drill terrorizing slumber partying teen girls and a satirical take on the slasher genre. The sequel is one of those movies that leaves you thinking "Who thought this was a good idea?" the entire time you're watching. The driller killer is resurrected as a "rock and roller" made mortal via the dreams of Courtney, a survivor from the first movie. But this guy is less a charismatic and terrifying rocker than an irritating tool strutting around in a tasseled jacket and silver-tipped boots, occasionally busting some breakdancing moves. That said, he's got a drill-tipped guitar, which is his undeniably awesome saving grace.
Rock 'n' Roll Nightmare (1987)
The Tritonz head to an isolated farmhouse to finish recording their new album, but while they know how to rock, they don't know why the farmhouse has stood empty for so long. The answer, of course, is demon infestation. Make no mistake, this movie is '80s cheese at its absolute cheesiest, and the demons are of a decidedly rubber-puppet nature. Your enjoyment will be in direct proportion to your tolerance for such things. A plodding first hour (about one-third of which consists of the van ride to the farmhouse) is more than made up for by the final showdown between Satan and the Tritonz's lead singer, who becomes The Intercessor, a big-haired, studded-codpiece clad Archangel.
Black Roses (1988)
When the Black Roses come to town, the kids go crazy. So it goes without saying that their parents despise the band and will do anything to stop the Roses from performing — the classic "uncool parents vs. evil rock music" scenario. Here, though, the parents are right. The Black Roses' music is indeed bad for the kids… it turns out that they're actually demons in disguise, attempting to take over the world one school gymnasium concert at a time. This gem was directed by John Fasano, who also brought us Rock 'n' Roll Nightmare; much like its predecessor, Black Roses takes a while to get warmed up, but once it does, it's a heavy-metal, rubber-demon delight.
It seems as though a lot of possibilities have gone unexplored — I mean, maybe music itself is inherently evil. Or maybe the people playing it are evil or it makes people listening to it do evil things. The point is that rock and horror should go hand in hand more often. Then again, there's something unassuming and sterile about today's music … and how am I supposed to play an mp3 backwards when I want to invoke an evil spirit?
Scratch your B-movie itch any time you want by visiting AMCtv's online movie channel.

When Stacie Ponder isn't writing about horror movies here or at her own beloved blog Final Girl, she's making them. Always, though, she leads a glamorous life, walking on the razor's edge of danger and intrigue.
Read More