So You Think You Can Sing? Stars Like Joaquin Phoenix Have Proven They Can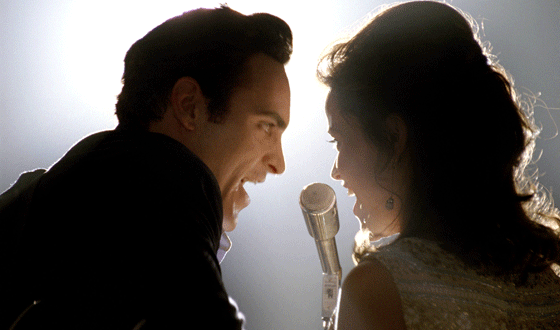 Rob Marshall's sultry musical extravaganza Nine stars Daniel Day-Lewis as a director corralling a stellar cast of singing muses: Marion Cotillard, Penelope Cruz, Kate Hudson, Nicole Kidman, Fergie, Judi Dench and Sophia Loren. Unlike practiced performers like Gene Kelly and Beyonce, established actors who decide to sing have everything to lose if their voices aren't up to snuff. Which singing actor's performance on-screen deserves top honors in this talent show? Read on!

10. Gene Wilder in Willy Wonka & the Chocolate Factory (1971)
When kooky candy man Gene Wilder introduces five kids to his factory by singing "Pure Imagination," he sets a tone of awe that becomes a thread both sinister and ecstatic throughout the movie. The movie has an infectious take on wonder and delight, with Wilder as pied piper, and though he doesn't do a lot of singing, that one memorable song earns him a spot on this list.

9. Julie Andrews in The Sound of Music (1965)
The songs on the Rodgers and Hammerstein soundtrack for this musical have etched themselves onto the memories of billions, thanks to the four-octave range of Julie Andrews. A child protégé, her career exploded when she played Maria in the Sound of Music. Andrews' pitch-perfect voice made "Do-Re-Mi" and "My Favorite Things" into big-time hits.

8. John Travolta in Grease (1978)
From
"Greased Lightning" to "Summer Nights," the songs of the iconic movie
about teenage love in the 1950s have nudged entire generations into
song. The movie catapulted John Travolta into fame for his portrayal of
the charismatic tough-guy Danny Zuko with a lyrical voice and slinky
hips. Travolta's song-and-dance act wowed again in Hairspray (2007), this time in drag, no less, after donning a bustier and 30-pound fat suit. He earns eighth place for his trouble.

7. Johnny Depp in Sweeney Todd: The Demon Barber of Fleet Street (2007)
Johnny
Depp gives a nuanced performance as the titular barber, but it's the
music that stitches the movie together. As he works his way through
Stephen Sondheim's score, Depp's unstudied voice imparts a sturdy
naturalism that sounds more like a talky growl than pure lyricism —
but it feels in character, thanks to Depp's dark brow and
perma-grimace. Is there anything this guy can't do?

6. Jennifer Jason Leigh in Georgia (1995)
Sister-of-the-star
Sadie, a role fully inhabited by Jennifer Jason Leigh, is trying to eke
out a living as a club singer, with none of the wow appeal of her
talented older sister. Singing Van Morrison's "Take Me Back," Leigh's
pained, uncomfortable performance drips with emotion. She drags
melodies into cacophonic cat-screams that last way too long. Leigh's
willingness to take one for the team would almost help her crack the
top five, if not for…

5. Meryl Streep in Mamma Mia! The Movie (2008)
It's
hard to imagine an A-lister like Meryl Streep playing a frothy B&B
owner who hams it up in song and dance. But the actress outdoes the
campiness; her on-pitch voice is poignant in the lower registers and
delicate up high. And it's because of Streep that the Abba-honoring
movie is the highest grossing musical ever. With songs like "Money
Money Money" and "The Winner Takes It All," she shows why she's a
living Hollywood legend.

4. Jamie Foxx in Ray (2004)
Jamie
Fox embodies Ray Charles — the gestures, the wide smile, the sway,
the tilted walk — in this biopic about the pioneering soul crooner.
Foxx's performance is the perfect homage to the scrappy,
heroin-addicted Charles, as the movie portrays him bringing his
unprecedented mix of R&B, gospel and blues to clubs and dance
halls. Though Foxx is trained in piano, he prepped by jamming with
Charles, and it shows.
3. Michelle Pfeiffer in The Fabulous Baker Boys (1989)
When
Michelle Pfeiffer shed her clean-cut image and slid around on a piano
mouthing "Making Whoopee," she stunned fans and won over detractors.
For her role as the sexuality-exuding singer Susie Diamond, Pfeiffer
spent months training vocally and researching lounge acts, while Jeff
and Beau Bridges, the brothers who are both outshined by Pfeiffer, were
dubbed. Her breathy boldness slides her easily into third place on this
list.

2. Joaquin Phoenix and Reese Witherspoon in Walk the Line (2005)
The
chemistry between Phoenix and Witherspoon, as Johnny Cash and June
Carter, drives this biopic, and crosses over from the story to the
stage — their tension eases from bickering into harmonious duets.
Witherspoon personifies Carter's perky, perfect-pitch style — she
landed a Best Actress Oscar for the performance — and Phoenix digs
deep with a raspy delivery that earned accolades as well. The pair
easily earns their second-place slot.
1. Terrence Howard in Hustle & Flow (2004)
Howard
takes on the role of the crunked-out Memphis rapper/hustler Djay in
Craig Brewer's electric movie about a small-time pimp who's looking to
make his name in the rap universe and score a hit song. It's easy to
see why "It's Hard Out Here for a Pimp," written for the movie by hip
hop act Three 6 Mafia and Cedric Coleman, won the Academy Award for
Best Original Song, and Howard just nails it, with a performance made
all the more poignant by the fact that we've watched him struggle to
bring the song to life. For the win!

Read More