Sharp Fangs, Big Hearts – The Ten Sexiest Emo Vampires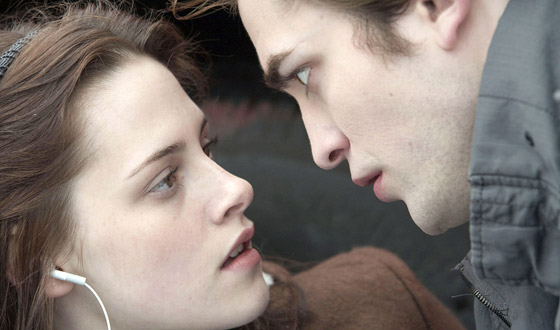 Some vampires are sexy because they're so unabashedly wicked — bad boys (and girls) don't come badder than pallid immortals who live by the blood of humans. But others get their erotic zing from soulful torment: Imagine the agony of eternal life when all you want is to fall in love and grow old with someone, each moment made more precious by the knowledge that it will someday end. Ooooh, dreamy. From Twilight's Edward Cullen to Interview with the Vampire's tortured Louis de Pointe du Lac, these emo vamps are simply irresitible.
Edward Cullen (Twilight series, ongoing )
Born in 1901, Edward Anthony Masen was dying of Spanish Influenza when his mother begged vampire Carlisle Cullen to save her son. Frozen at the age of 17, Edward (Robert Pattinson) refuses to drink human blood and endures decades of loneliness rather than risk breaking his vow. But he falls in love with Bella Swan, and is torn between pursuing their relationship or protecting her — from himself and his fellow vampires — by breaking her heart.
Darren Shan (Cirque du Freak: The Vampire's Assistant, 2009)
Contemporary teen Darren makes a Faustian bargain to save the life of his best friend: He apprentices himself to Larten Crepsley, a benevolent vampire who's almost 200 years old. Technically, Darren is only a half-vampire until he drinks human blood, an idea that repulses him. He isn't ready to abandon every vestige of his former life.
Angel (Buffy the Vampire Slayer/Angel, 1997-2004)
Born in Ireland in 1727, Angel (David Boreanaz) was the dissolute son of a prosperous merchant. At the age of 26, he became a vampire and, at first, embraced his murderous nature. Angel eventually renounces wickedness, and fights to regain his soul, but one moment of pure happiness will damn him for eternity. So much for ever trying to fall in love.
Eric Brooks aka Blade (Blade series, 1998-2004)
Brooks' human mother was bitten by a vampire while pregnant, so his
loyalties are divided from birth. As an adult, he re-christens himself
Blade (Wesley Snipes) and becomes a slayer, but his own vampire
nature — which allows him to battle full-blooded vampires — must be controlled at all costs.
Louis de Pointe du Lac (Interview with the Vampire, 1994)
Born in 1766 to a wealthy, plantation-owning family in Louisiana, Louis (Brad Pitt) succumbed to suicidal despair after the death of his young wife and child. Opportunistic vampire Lestat persuades him to choose eternal undeath instead, but Louis quickly discovers that hell is other vampires — he's repelled by their blood lust and cruel hedonism. After nearly 200 years of trying to reconcile his nature and his moral beliefs, Louis is reduced to unburdening his heart to a stranger.
Michael (The Lost Boys, 1987)
Uprooted when his single mom moves her family to a new town, Michael (Jason Patric) falls in with the wrong crowd. One of his new friends slips him a bloody drink, and Michael, now a half-vampire, is horrified to realize there's a dark side to the "sleep all day, party all night" life. He wants to reclaim his ordinary life, but he doesn't want to leave the half-vampire girl with whom he's fallen in love.
Caleb Colton (Near Dark, 1987)
Farm boy Caleb (Adrian Pasdar) is enchanted by Mae, a mercurial waif who turns out to be a vampire. Her "family" of ruthless, roaming killers, is willing to take him in, but only if he's willing to commit to their way of life. Caleb is torn between his family and Mae, but the more he sees of vampirism, the sorrier he is.
Martin (Martin, 1978)
Pale, sickly looking Martin (John Amplas), whose superstitious family believes he's a vampire, is sent to live with a deeply religious uncle. Martin may not even be a supernatural vampire: His bloodlust is more like a junkie's addiction to drugs, and he uses razor blades and knock-out drugs to feed his craving. Lonely and isolated, Martin pines for the company of normal people, but his only outlet is calling late-night radio shows.
Barnabas Collins (House of Dark Shadows, Night of Dark Shadows, 1970-1971)
Born into the wealthy Collins family of Collinsport, Maine, the
18th-century Barnabas (Jonathan Frid) made some poor relationship
decisions and was cursed to vampirism by a vengeful witch. Two hundred
years later, he hopes that modern medicine may finally free him, but is
constantly disappointed.
Countess Zaleska (Dracula's Daughter, 1936)
The wealthy and beautiful countess (Gloria Holden) wants nothing more than to find a cure for her vampirism, and thinks she may have found it in psychiatric treatments. But her bloodlust can't be contained, and each time she seduces and kills another victim, her self-loathing increases.

Read More