Robert De Niro, Martin Scorsese, and Mira Nair Help Inaugurate Doha-Tribeca Film Festival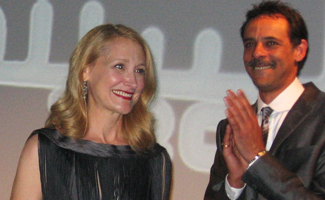 "If we don't make our own stories, then no one will," said Mira Nair before her Amelia Earhart biopic Amelia kicked off the inaugural Doha-Tribeca Film Festival, held from Oct. 29 through Nov.1 in the Persian Gulf nation of Qatar. The Indian-born Nair was talking to a diverse outdoor crowd of more than 5,000 viewers — a combination of locals, expats, celebs, foreign dignitaries, and a healthy contingent of international industry and press. So Nair's "we," much like the festival itself, encompassed a broad range of identities.
While many of the 30-plus movies screened by the Doha Fest presented the latest work from Middle Eastern filmmakers (including Asghar Farhadi's Berlin Best Director winner About Elly and Bahman Ghobadi's Cannes award-winner No One Knows About Persian Cats), the program also reflected an effort to showcase films about women, often of the headstrong variety: Besides Amelia, the slate included Jane Campion's Bright Star, Anne Fontaine's Coco Before Chanel, and Lone Scherfig's An Education, among others.
Movies exploring the East-West connection were also prevalent, including Ruba Nadda's touching romance Cairo Time, featuring Patricia Clarkson as a married American in Cairo falling for a charming Egyptian (played by Star Trek: Deep Space Nine's Alexander Siddig), and Liz Mermin's Audience Award-winning documentary Team Qatar, about the country's first national high school debate team, coached by a team of Oxford grads.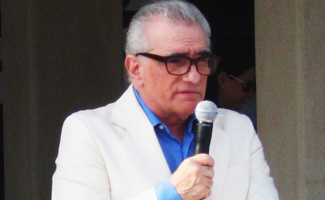 Presented as a partnership between Tribeca Enterprises — the film
venture founded by Jane Rosenthal, Craig Hatkoff, and Robert De Niro —
and the Qatar Museums Authority, the festival also presented a healthy
number of panels and industry talks, and a unique outdoor screening of The Mummy, a 1969 Egyptian film restored by Martin Scorsese's World Cinema Foundation.
Scorsese himself was also in attendance at the festival, and
discussed his decades-long fascination with Chadi Abdel-Salam's
hallucinatory, dreamlike film. Citing The Mummy's influence on
his own mentors Roberto Rossellini and Michael Powell, Scorsese noted
that it had "haunted" him over the years, and that he himself "never
got to see a complete color version of it until we made this new
restored version." Bringing things full circle, Scorsese added: "I do
hope that the filmmakers of this region will find the same inspiration
in this film that I find."
Read More