Uncategorized
Q&A – Olivia Wilde Is Happy There's No Happy Ending in Fix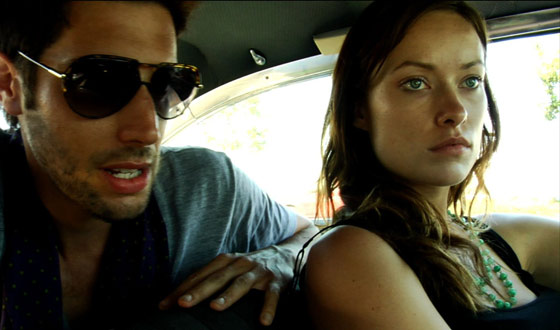 Fix" width="560″/>

Olivia Wilde might be most known for her portrayal of Dr. Remy "Thirteen" Hadley on House — but don't expect her to play doctor forever. The actress is filling out her resume with comedies (Year One), scifi (Tron Legacy), and indie dramas like Fix, which was written and directed by her co-star — and real-life husband –Tao Ruspoli. Wilde talks about what she finds appealing in dark storylines, how her recent experiences have made her want to get behind the camera, and compares making no-budget films with big-budget ones.
Q: Does it change the dynamic when your husband is the director?
A: It definitely changes the dynamic, but I wouldn't say it's harder. In some ways, it's more fun. And it changed the way Tao and I communicated. We have this streamlined communication built in already, but we were able to discuss different choices we were making for this character and for this story in a way that I wouldn't be able to with any other director. The downside is that this meant we didn't ever stop working. When we weren't shooting, my house became the production office. The bottom floor of our loft was the editing suite. And now, because I've seen the whole thing from conception to premiere, I think I would love to produce my own films.
Q: It's usually the cliché that as an actor, you'd want to direct —
A: Well, directing as well then! I was so inspired by Tao
directing. But you really learn to appreciate everyone and everything
when you're doing a smaller movie like this. You could do ten movies
like Fix with the average budget a movie gets. And what that
means is you don't have to jump out of a car and steal shots because
you don't have a permit. We didn't have hair and makeup, we didn't have
trailers, and you know what? You don't need all that to make a film.
Q: Would you want the two of you to become a team, like how
your parents [Andrew and Leslie Cockburn] became a team in journalism?
A: They've been a team since the '70s! My whole childhood, I
learned how that works: How to have a non-professional and romantic
marriage as well as a professional and a team dynamic, and how to
really take advantage of that. I think we've definitely become a team.
I have no problem with anyone on set knowing he's my husband.
Q: And yet your character in Fix, Bella, doesn't seem to want to be referred to as anyone's girlfriend.
A: She's his girlfriend, but she's quite insistent on not being
called that because she doesn't want to be thought of as a Yoko
Ono-type girlfriend, as if that's where her power comes from. I mean, I
love Yoko, but [Bella] wants to be seen as a filmmaker! She's a staunch
feminist, she's very stubborn, but she's partly insecure. It was an
interesting character quirk to put in there. You can tell how tough she
is, but you don't see her ability to wiggle around that until the end,
when she's learned to open her eyes, shift focus, and realize helping
one person is as necessary as trying to save the world.
Q: How did this experience compare to Tron Legacy, which you shot over the summer?
A: There's a sense on a small film that you'll do whatever it
takes to get it done, and the shared investment is wonderful. But the Tron
team had that same spirit, because we were willing to work 20-hour days
to make it happen. The resources were spent on creating a great piece
of art, and the priorities were in line — the story is more important
than the special effects. It made me realize that whether I was in a
giant movie like Tron or a small indie like Fix, it
doesn't matter if it's one camera or green screen, small crew or 700
crew members — none of that matters unless you're working hard and
trying to understand the humanity you're reflecting. Bad is bad, no
matter the medium.
Q: Then if it's about the characters and the stories, why is it you're drawn to stories about drugs and addiction?
A: It's certainly a large theme in House and Fix,
but I think it's more that I'm drawn to and I certainly empathize with
the idea of struggling to change yourself. Can a person change? Can you
change someone else? I don't think of it as specific to drugs, but I
completely empathize with the effect it has on your friends and family
and the dark humor of that, because this is a personal film. Most
people have a personal connection to these kinds of themes. And it's my
favorite thing that there isn't a happy ending here. It's not all tied
up neatly with a bow. It's a great thing that we can make the choice to
do that, with no studio saying, "Why can't you just make him healthy in
the end? Add a scene with a Labrador on the beach and he's got a tan
and a family?" Not going to happen.
Read More