Uncategorized
Q&A – Lea Thompson Admits She Likes the Seedy Side of Splinterheads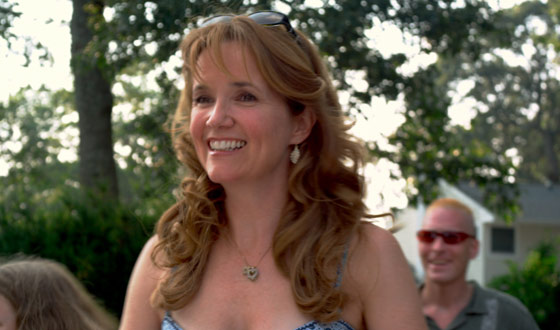 Splinterheads" width="560″/>

You'd expect a host of eccentric and colorful characters in an indie movie about the folks behind a traveling carnival, and the quirky comedy Splinterheads nails them all like darts in a balloon. But it's the film's grounded sense of realism that gives it a heart, thanks in part to a supporting performance from Lea Thompson. The actress tells AMCtv.com this return to big screen is just the beginning.
Q: You're probably the most normal character in Splinterheads…
A: I usually get all these weird characters, and they're all different and fun for me, but you're right, Susan is relatively normal. It wasn't the part that attracted me, just that Splinterheads was such a lovely script. I think the movie turned out to be quite funny, and not in a way that comes naturally to me, that dry humor. My comedy instincts tend to be bigger. It was a lot of fun to shoot. We had a carnival set up right outside our dressing rooms, and since they didn't have a lot of money for extras, they kept the carnival running. I love really crappy carnivals, where you think the ride is going to break. There's something so seedy about them.
Q: You have a lot of independent films that you're about to release — such as I Was A Seventh Grade Dragon Slayer. Are you orchestrating a comeback?
A: I don't know if orchestrating a comeback is it, but I want to
become an independent filmmaker, and the best way to do that is from
the inside out — I wanted to infiltrate as many films as I could and
see how it's done. Of course, I'd like to produce and direct a
blockbuster, but you gotta build up to that. So now I'm learning from a
bunch of little movies. And it's more fun with smaller pictures. It's
more creative.
Q: What are you planning to direct?
A: For my first film, it's going to be a romantic comedy called Damaged Goods. It's going to star James Denton from Desperate Housewives,
and he's a cowboy, who has a strange sidekick, a fictitious character,
so you wonder if he's a little crazy. And the girl, she has her own
fix-it talk show, like This Old House. There's something
lovely and whimsical about it. I got to get the girl, though, so if you
know of anybody…? Somebody who would be like the indie Sandra
Bullock? We're going to start shooting in Santa Fe in May or June.
Q: When do you plan to release it?
A: I'm trying to figure out how to release it. It's an
interesting transition right now in the film world. Perhaps you could
get smaller theaters to let you gather 30 people together and order up
a movie you want. If they can deliver it fast enough, you can just hit
a button and transfer it to the right theater, so that the delivery is
more like iTunes or YouTube. I think that's the future of what's going
to happen. Don't you think that would be cool?
Q: When you talk about how far media has come and where it still needs to go, I'm reminded of the McFly's living room in Back to the Future II, in the year 2015.
A: It's funny how they think the flying car will take off [in
futuristic sci-fi scenarios]. But it really is now more like all the
screens the McFlys had, with IM and Facebook and camera iChats and
Blackberries. One thing the futurists never get right, though, is that
the extreme desire for polyester only lasted a brief period in the
'70s! So that's my art direction to the costume department: Don't
forget cotton!
Q: This must have been a rough year for you, what with John Hughes dying…
A: My husband [director Howard Deutch] and I, we met on the set of Some Kind of Wonderful, you know. Three days after John Hughes died, I was on the set for this family comedy Mayor Cupcake, and Judd Nelson plays my husband, and my daughter, who is playing my daughter in the movie, was singing a song from The Breakfast Club,
the theme song [Simple Minds' "Don't You (Forget About Me)"]. My
husband was standing there, and we realized we were all there because
of John Hughes in a way. It was hard to keep from crying.
Q: How do you feel about the Red Dawn remake that's in the works?
A: One of my friends is playing my [character's] father, and he doesn't avenge me! Red Dawn was
very resonant with a lot of people — they love that movie. I always
thought it was a little hysterical. They're reviving all of my movies,
lately, releasing them on DVD. A third of all my fan mail starts, "I'm
the only one who liked Howard the Duck…" Of course, there are many who think Howard the Duck destroyed my career, and maybe it did. Or maybe Space Camp put
the nail in my coffin. But I've also have two incredible kids, and that
eclipses a movie career any day. Of all the girls who were in my
league, I've had one of the weirdest careers of all of them, and it's
not over!
Read More