Uncategorized
Q&A – Jonathan Rogers of Hotpipes Wants to Do the Mad Men Theme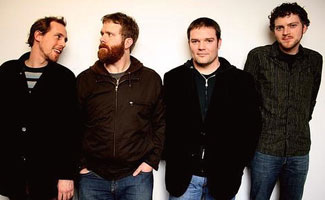 "The Future Is Where We Belong," the song on AMC's new on-air promos, comes from Hotpipes, a Nashville band whose music has been featured in ads and on TV shows like Gossip Girl. Hotpipes latest album, Futurebolt, is available on Amazon.com. AMCtv.com spoke to band leader Jonathan Rogers about the message in his music and his favorite movies.
Q: AMC is using your song, "The Future Is Where We Belong," to define the network. Does the song define the album?
A: Yeah, it's the first song. The album is called Future Bolt, so it's a theme of the album.
Q: What's the song about?
A: Lyrically, deciding to go up and live in a spaceship and try
again. When it was written, it was at the beginning of the [2008
presidential] campaign. The war was going badly, the economy was
starting to turn and we were all trying to think about things getting
better. I tried to paint a really quick picture with not a lot of
words. "The Future Is Where We Belong" is a hopeful thing. Maybe the
next generation will get it right.
Q: This isn't the first time you've had a song on TV.
A: We had a song on Gossip Girl, in the finale. The same song, funny enough. They weren't going to space when they used it.
Q: Your band has a unique name based on an expression someone's mother used. Have you ever heard anyone else use it?
A: Nope, just her. When she had heartburn, she'd call it hotpipes. Maybe it's a Central Tennessee thing.
Q: Are you all from Central Tennessee?
A: No, two of us are from Ohio and two of us are from Kentucky. We just converged on Nashville.
Q: What's it like being a non-country band in the capital of country music?
A: If you spend any time in Nashville, you realize pretty quickly
there's a lot of country, but it's mainly in the tourist areas. It's
like any other city: Mainly indie rock, plus a lot of really
interesting country-esque musicians.
Q: Do you have a favorite movie?
A: I actually went to film school, so lately I've been into a lot of
film noir-type stuff. I've been reading a lot of Raymond Chandler, so
any of the Philip Marlowe movies. I'm a big fan of The Big Sleep (1978). And it's not film-noir, but one of my favorite movies is Robert Altman's The Long Goodbye (1973).
Q: Favorite soundtracks?
A: I really loved the soundtrack to Where the Wild Things Are (2009). The woman from The Yeah Yeah Yeahs did the whole thing. I love the soundtrack to a movie called The Proposition (2005) that Nick Cave did and The Assassination of Jesse James (2007).
Q: Have you ever thought about doing music for a movie or more TV?
A: I think we'd be very interested. We all watch too many movies. Maybe we can do a jazzed up version for Mad Men … just dropping a hint!
Read More