Now or Then – This Is It or Shine a Light?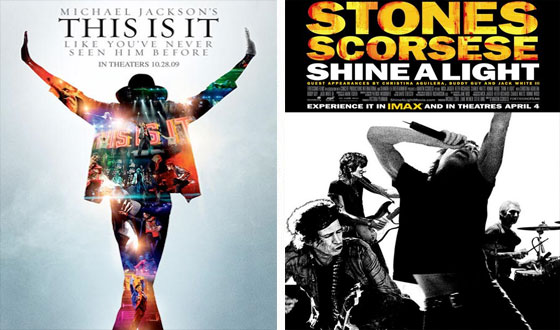 This Is It or Shine a Light?" width="560″/>
Now: Michael Jackson's This Is It (2009)Then: Shine A Light (2008)
At first it looked like Michael Jackson's This Is It was just a shameless attempt to capitalize on the legendary singer's death. But the end result is actually a lot more complicated than that — a strange hybrid of rehearsal footage, poignant moments, and pop kitsch. As such, it's a concert film unlike any other — but it will get you thinking about Martin Scorsese's glossy, high-profile Rolling Stones flick Shine A Light, another strange hybrid. So how do these two high-profile music movies stack up against one another?
Postmodern Concert Flicks
This Is It: Openly acknowledging the fact that it was filmed as rehearsal footage for Michael Jackson's private use, the movie achieves a haunting level of intimacy that simultaneously cuts through and furthers the Jackson mystique.

Shine A Light: With its distracting tracking shots (supposedly shot from Mick Jagger's perspective), the film openly acknowledges its place as a highly-produced tool in the Rolling Stones marketing cosmos.
A Director at the Mercy of His Subject

This Is It: Although Kenny Ortega is the credited director on the film and was Jackson's co-choreographer, more often than not, it's Jackson who seems to be directing whenever he's onstage.

Shine A Light: Scorsese locks horns with Mick Jagger over whether he can have moving cameras at the concert. Later, he is baffled by the Stones' inability to provide him with a set list until the last minute.
Basking in the Fame

This Is It: A parade of aspiring young dancers address the camera talking about how important and special the chance to dance with Michael is for them… Some are so overwhelmed they can't finish their sentences.

Shine A Light: Bill Clinton (for whose non-profit organization the concerts have been staged) rolls around with thirty other guests in tow, including his clearly star-struck mother-in-law.
Ghosts From the Past

This Is It: A segment of songs from the star's Jackson 5 days can't help but call to mind how much Jackson has changed over the years — and how different the figure onscreen is from the exuberant boy wonder of the past.

Shine a Light: Archival footage of the Stones seems intended to give context and backstory – but it also highlights how different the supergroup onscreen is from the strangely vulnerable young lads of the past.
"But He Looks So Healthy!"

This Is It: Although he's definitely unnaturally thin, Jackson
displays such energy and expertise as he dances that you'd never guess
he would be gone within months.

Shine A Light: During his solo session, Stones guitarist Keith
Richards displays such energy and expertise that you'd never guess he's
been dead for thirty years.
Don't forget to vote in the Now or Then poll, or leave a comment below!
Read More