Mary J. Blige's Personal Experiences Inspire a Song for Precious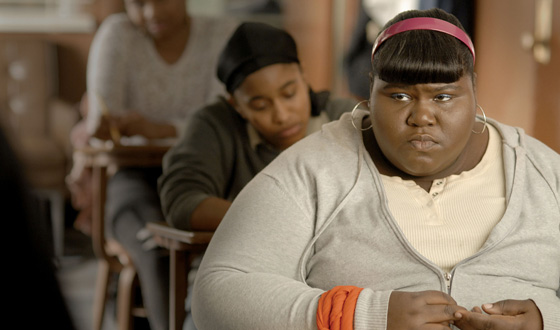 Precious" width="560″/>

Since the early '90's Mary J. Blige has held onto her title as "The Queen of Hip-Hop Soul" by writing and performing soul-baring songs culled from her personal battles with abuse, drugs and bad relationships. Blige has since overcome those issues, but she used their lasting imprint on her life as the inspiration for a new song, "I Can See in Color" — the first single from the soundtrack to the new movie Precious: Based on the novel "Push" by Sapphire.
Precious tells the story of Claireece "Precious" Jones (Gabourey Sidibe), a pregnant Harlem teenager who overcomes illiteracy, sexual abuse and health issues as she learns to discover and love her true self. It's a harrowing on-screen tale that was first published in 1996 as novel by the poet Sapphire. The movie adaptation, directed by Lee Daniels, won the Grand Jury Prize and the Audience Award at this year's Sundance Film Festival in addition to audience prizes in three other film festivals. When Precious opened in limited release this past weekend in only eighteen theaters, it averaged an astonishing $104,025 per screen compared to the weekend's top grossing movie — A Christmas Carol — which averaged only about $8,100 per screen.
Blige immediately connected with the character of Precious when Daniels first showed the film to her at a private screening. At a press conference for Precious at the Toronto International Film Festival in September, Blige explained that seeing the movie brought back memories of her own rough childhood, saying, "Some of those situations that happen to Precious happened to me."
Blige teamed with songwriter LaNeah Menzies and noted hip-hop
producer Raphael Saadiq to meld her personal experiences and the story
of Precious into a song that would be both "grim and optimistic"… a
true reflection of Sapphire's story and Daniels' film. Blige described
the recording sessions as "grueling" because of the rough subject
matter. During the sessions Daniels pushed her to reach beyond her
emotional limits, to the point of tears. "I was damaged, in a good
way," Blige said recently about the experience.
The result is a soulful, wrenching and emotionally raw
performance by Blige in "I Can See in Color" with a threadbare bluesy
accompaniment arranged by Saadiq. The title refers to the moment in
Blige's life when, she says, "I finally woke up, or got to a point
where I said I can not live like this anymore." It was at that moment,
Blige says, that she found hope and started to see her world in color.
In the movie, hope provides the color in Precious' fantasy-filled
imagination of a better life — a theme that Blige hits home in the
song's chorus:
I can see in color
The first sign of spring
The rose buds are blooming
I got a new song, new song to sing

Life looks so amazing
I never knew that it could
Open my eyes
And for the very, very first time
I can see in color
Rolling Stone magazine hailed the track as "…a knockout
song by Mary J. Blige expressing the goal of Precious to see the world
in color." Already there's talk of "I Can See in Color" landing an
Oscar nomination for Best Original Song (in addition to the film's
increasing chances for Best Picture and Director, not to mention nods
for Sidibe and Mo'Nique, who plays Precious' abusive mother).
Blige and Daniels executive produced the soundtrack album for
Blige's record label, Matriarch Records. They selected songs from
artists like Queen Latifah, Labelle, Nona Hendryx and Mahalia Jackson
that, according to a press release, "resonate not only in Precious'
world, but speak to your soul no matter who you are."
The soundtrack album for Precious is available now through digital outlets and in retail stores on Nov. 23. The movie will open in more theaters this Friday.
Read More