Honest Injuns – Saluting the Real Deal Native American Stars of the Wild West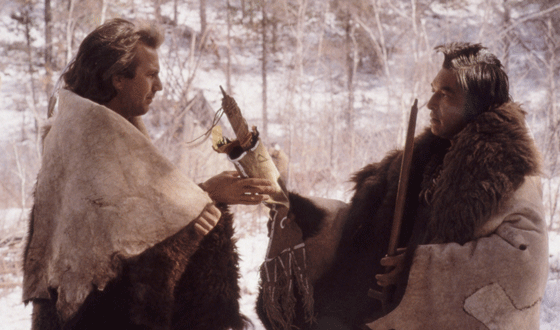 For a long time, a jar of bronze makeup was the crucial component in playing a Native American in the Wild West. Cross-racial turns by Burt Lancaster in Apache, Chuck Connors in Geronimo, and Anthony Quinn in They Died With Their Boots On are the most glaring examples — not to mention the legions of hooting buckskins felled by the benevolent cinematic gunfire of the U.S. Calvary. In honor of Thanksgiving, let's give credit where credit is due to some of the actors who were actually the real deal.
Chief Dan George – Little Big Man (1970) and The Outlaw Josey Wales (1976)
George's roles in these two classic flicks helped him make his mark — albeit late in life. Both roles came when he was already advanced into his seventies and, perhaps for that reason, they're marked by the blissful irreverence that comes with old age: Both portrayals are a world apart from the grim cigar store Indian cliches. It helped that forward-thinking directors like Arthur Penn and Clint Eastwood let the Native characters speak normal, unaffected English, a development that allowed Dan more than a few witty one-liners: "I myself never surrendered. But they got my horse, and it surrendered."
Graham Greene in Dances With Wolves (1990)
Born in the Six Nations Reserve in Ontario, Canada, Graham Greene overturned a lot of Native American stereotypes with Dances With Wolves. Say what you will about Kevin Costner, the movie remains one of the least patronizing portrayals of Indians in the West to this day, and a good part of its success is due to Greene's sympathetic, unfussy portrait of Kicking Bird. (He even received an Oscar nomination for Best Supporting Actor.) Like many other Native American actors he's suffered typecasting since then, but in 2007, he turned the cross-racial stereotypes around by playing Shylock (aka the Evil Jew) in a stage production of Merchant of Venice.
Rodd Redwing in Rancho Notorious (1952) and Charro! (1969)
One of the first real Native Americans to appear in Westerns, Redwing's
true talents were first displayed behind the scenes — as a quick-draw
virtuoso. Able to whip out his Colt and blast away a target in just
two-tenths of a second, Redwing was a hot ticket as a gun coach to the
stars; his pupils included Genn Ford, Burt Lancaster and Alan Ladd.
Trading on his technical expertise rather than his heritage was
probably a good idea. When ribbed about why Native Americans don't
appear in more movies, Redwing's retort is classic: "Hollywood doesn't
think that Indians are the type, so they always have someone else play
the Indian."
Russell Means in Last of the Mohicans (1992)
Means
seized the Mayflower, occupied Alcatraz Island, and took control of
Wounded Knee — and that was before his movie career had even started.
A militant figure in the American Indian Movement, Means's political
activism endeared him to such directors as Oliver Stone, who cast him
in Natural Born Killers. On the Western side, he served favorably in Last of the Mohicans (the lead role is played, of course, by an Irishman) and lent his voice to Disney's Pocahontas. It's off-camera that Means remains a forceful spirit though, as his autobiography, Where White Men Fear to Tread, is ample evidence.
Will Sampson in The Outlaw Josey Wales (1976), The White Buffalo (1977)
Sampson's debut in One Flew Over the Cuckoo's Nest as
Chief Bromden is one of the greatest portrayals by a Native American in
all of American cinema. His gigantic size helped him win the part, but
it was his performance that makes it a classic character. Future roles
included turns in Clint Eastwood's great The Outlaw Josey Wales and The White Buffalo. The latter is one of the odder movies in the Western lexicon: Half homage to Moby Dick and half rip-off of Jaws,
the 1977 flick follows Wild Bill Hickok (Charles Bronson) and Crazy
Horse (Sampson) as they team up to kill the deadly white buffalo.
Honorary Mention:
Iron Eyes Cody in Sitting Bull (1954) and A Man Called Horse (1970)
Cody was one of the most prolific Native American actors in Western history. He played opposite John Wayne in The Big Trail and Steve McQueen in Nevada Smith. And, infamously, he was also the tearful Indian in the "Keep American Beautiful" Public Service Announcement. Trouble
is, he wasn't actually an Indian! Born Espera Oscar DeCorti, the actor
hoped to bank in on Indian parts by claiming Cherokee and Chee ancestry
and calling himself Iron Eyes Cody. He was outed in the mid-'90s, but remained an icon to many in the Native American
community, who celebrated him for his charity work and treated him as sort
of an honorary Indian. Who are we to judge?
Read More