Home for the Holidays Isn't Easy for the Stars of The War at Home and The Family Stone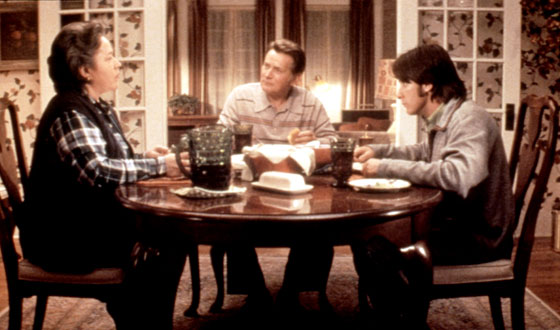 The War at Home and The Family Stone" width="560″/>

This week millions of Americans will do something absolutely horrible: Head home for the holidays! OK, for many of us, this is an occasion for joy. But for others, it means returning to places they've spent their whole lives trying to escape. On screen, you can be sure that when families gather for Thanksgiving, Christmas, Hanukkah or any other special occasion, uncomfortable moments are bound to follow. Try these home-for-the-holidays horror stories on for size…

The Family Stone (2005)
Sarah Jessica Parker heads home with her fiancé (Dermot Mulroney) for Christmas and is treated to a litany of humiliating moments. She gets the cold shoulder from his Mom, crashes a car, and wakes up next to her boyfriend's brother (Luke Wilson). The awkwardness is actually relieved when her own sister (Claire Danes) shows up and handily steals her husband-to-be — which tells you how bad things had gotten.

Spider-Man (2002)
What's the best way to ruin the first Thanksgiving you're hosting in your new apartment with your new beautiful girlfriend (Kirsten Dunst)? Well, here's one suggestion: Invite over your industrial tycoon father (Willem Dafoe), who is secretly making the transition to supervillain. If things go the way they did in Spider-Man, don't be surprised if he announces to all your guests that your girl is only after the family money. Thanks for nothing, dad. Now, someone please pass the gravy!

Tadpole (2002)
When a young man (Aaron Stanford) leaves his prep school for Thanksgiving break, he sets out with the somewhat, unconventional goal of winning the love of his stepmother (Sigourney Weaver). He then ends up sleeping with another older woman instead (Bebe Neuwirth), an indiscretion whch leads to an awkward showdown at dinner, when a drunk Neuwirth kisses the young Stanford, and their cover is blown. Classy.

The Myth of the Fingerprints (1997)
Just how does a repressed, WASP family cope with their awkwardness while all sleeping under the same roof? Keeping it to themselves, you'd think. Nope! This one reacts in the creepiest way possible: After one couple is overheard having sex, the other couples — instead of being grossed out like most normal families would be — start going at it themselves. In a movie full of disturbing moments, this one definitely takes the cake.

The War at Home (1996)
Families fighting on Thanksgiving is a tradition as old as the holiday itself, but while most of those encounters involve angry words over cranberry sauce, how many of those arguments actually include firearms? That's what happens when Emilio Estevez's return from Vietnam coincides with the holiday and leads to an emotional climax during dinner. The disturbed vet pulls his handgun on his father (Martin Sheen), who, understandably, kicks him to the curb. Naturally, dinner is ruined.

Home for the Holidays (1995)
It's another oddball family and their holiday hijinks! Where to begin? There's secretly gay brother Tommy (Robert Downey Jr.) throwing a turkey in his sister's lap. But that's just the start. The two most humiliating and awkward family moments? Tommy is revealed to have married a man, and the token crazy aunt (Geraldine Chaplin) admits she has been in love with her sister's husband for the last half a century. Yikes — no wonder Holly Hunter wanted to stay home.

Son in Law (1993)
The plot of Son in Law can best be described as "Early '90s Pauly Shore meets Red State America." The gags in this movie culminate in a climactic scene in which Shore and Tiffani Amber Thiessen crash a Thanksgiving dinner and present evidence that the movie's stereotypical evil boyfriend roofied Thiessen and Shore in order to break up Shore's burgeoning romance with another girl. Here's hoping your turkey feast goes nothing at all like theirs.

Read More