Daily Scan for 11.12.09 – Abrams Is Out of Dark Tower, Black Cat Is In Spider-Man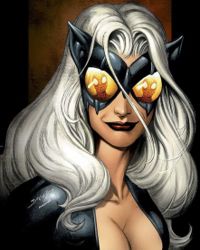 • Although it was rumored strongly that J.J. Abrams and Damon Lindelof — the two guys behind Lost — would adapt Stephen King's The Dark Tower for television, Abrams himself says he's now out of the picture.
• It now looks very, very likely that the Black Cat will play a significant part in Spider-Man 4, and may be played by Rachel McAdams.
• It's long past due, but Gene Roddenberry, the creator of Star Trek, has finally made his way into the Television Hall of Fame.
• Isaac Asimov was a computer user, and he certainly loved the TRS-80.
• Richard Kelly of Donnie Darko fame and The Box infamy says he'd love to do a sitcom that takes place in Jabba the Hutt's palace.
• In the 1970s and '80s, Japanese illustrator Shusei Nagaoka did a bunch of progressive rock album covers, but also did some great scifi movie posters.
• What if the Mad Men were Mad X-Men?
• Star Wars makes a fine universe for the mad beats and fresh rhymes of hard core, O.G. style gangsta rap.
Read More