Daily Scan for 11.11.09 – Rockwell Talks Iron Man 2, Warhammer Gets Option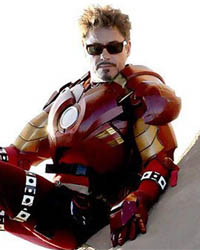 • Sam Rockwell says his character in Iron Man 2 is part Lex Luthor, and that he builds War Machine's armor.
• Guillermo del Toro says that in The Hobbit, we will follow Gandalf to the den of the Necromancer (otherwise known as Sauron), and see his epic fight.
• One of science fiction's most beloved board-gaming franchises, Warhammer 40,000 A.D., has finally been optioned by Hollywood. If they throw any sort of big budget at this, the rich mythos will carry the movie through just fine.
• io9 lists the ten best faux fake deaths in science fiction. "You have been, and always shall be, my friend!"
• If you've ever wondered what the Matrix would have looked like in 1905, the inestimable Charlie Chaplin has you covered.
• Giant robots attack Uruguay… and we love every second of it.
• Over on his LiveJournal account, Paul Maybury has posted the best Alien comic I've ever read.
Read More