Classic Ten – Radio DJs in the Movies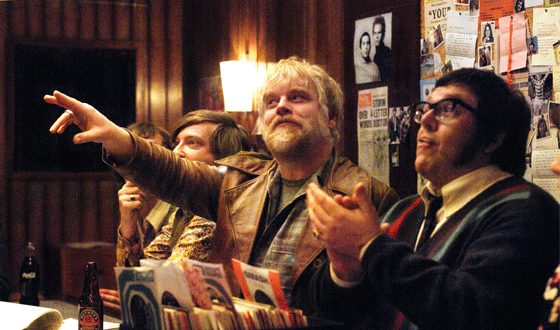 With all due respect to Philip Seymour Hoffman's expat DJ in Pirate Radio, loads of actors have proven their fast-talking mettle by manning the booth on-screen. Read on for some of the most memorable disc jockeys in movie history. Video may have killed the radio star, but cinema is clearly doing its part to keep them alive.
10. Abby Barnes (Janeane Garofalo) in The Truth About Cats & Dogs (1996)
In this modern, gender-swapped take on Cyrano de Bergerac, Janeane Garofalo plays an average-looking veterinarian with a radio call-in show who convinces her model-esque neighbor (Uma Thurman) to impersonate her on dates with a hot listener. It scores points for cuteness, literary allusion, and giving hope to smart, funny, plain girls. But not enough to move it out of the tenth place cellar.
9. Alan Freed (Tim McIntire) in American Hot Wax (1978)
This cameo-filled biopic traces the career of disc jockey Alan Freed, who made rock and roll a household name. Critic Greil Marcus called it "the most emotionally accurate movie about pop music ever made," and it features performances from such luminaries as Jerry Lee Lewis and the late, great Screamin' Jay Hawkins. Yet it tanked at the box office. Maybe because Jay Leno was in it?
8. Alan Berg (Eric Bogosian) in Talk Radio (1988)
Eric Bogosian brings his Pulitzer-nominated Off-Broadway show to the screen, playing a character inspired by acerbic radio host Alan Berg — who paid for his hostility to listeners with his life. "I don't care what you think! No one does!" screams Barry Champlain, who does not suffer fools (or anyone else) gladly. Claustrophobic and often deeply unpleasant, the movie scratches its way onto the list near the bottom.
7. Dave Garver (Clint Eastwood) in Play Misty for Me (1971)
Lucky number seven on our list is an early entry into the now-crowded lady stalker genre; Fatal Attraction lifted some elements wholesale from it: The obsessed woman first presents herself as a guilt-free one-night stand before bringing the crazy. Dave Garver's deejay booth becomes a kind of prison, in that he can't tell who's on the other end of the phone line. Thank heavens for caller ID, huh?
6. Mister Senor Love Daddy (Samuel L. Jackson) in Do the Right Thing (1989)
"It's hot enough for a jheri curl alert!" Jackson's Love Daddy warns his listeners. And that's the least of everyone's problems in Spike Lee's explosive exploration of racial tensions on one sweltering day in Brooklyn. When he isn't exhorting his audience to wake up, Daddy plays the platters that matter at We Luv Radio — "the last on the dial, but the first in your hearts."
5. D.J. (Lynne Thigpen) in The Warriors (1979)
Smack in the center of the countdown is this cult favorite and sartorial instruction manual — who hasn't wanted to dress up as a one of the Baseball Furies? As the titular gang of street-fighting men wends its way home from the Bronx to Coney Island, they are guided by a silky-voiced deejay (the wonderful Thigpen) whose face remains hidden, but who apparently sees all. Stay tuned, boppers.
4. Wolfman Jack (Wolfman Jack) in American Graffiti (1973)
Where were you in '62? The radio is the unifying element in George Lucas' affectionate look at a group of teenagers about to begin their adult lives: the very first sound we hear is a scratchy search for a station. The raspy-throated mutters and howls of Wolfman Jack connect the characters, inspiring one — a young Richard Dreyfuss — to discover the legendary disc jockey eating popsicles in a lonely studio outside of town.
3. Howard Stern (Howard Stern) in Private Parts (1997)
Before he was the King of All Media, FCC scourge Howard Stern was a geeky college deejay trying to realize his radio dreams and hold on to the love of his life. In this adaptation of his autobiography, the shock jock plays himself with surprising humility, utilizing some truly terrifying hairstyles. It's honest, funny, and shameless — in the best sense of the word — and number three in our lineup.
2. Petey Greene (Don Cheadle) in Talk to Me (2007)
Our first runner up is also based on a true story, that of D.C. radio personality Petey Greene, who learned the trade while in prison for armed robbery. Cheadle gives a command performance, profoundly hip whether spinning soul tunes or firing up his fans with social commentary. He even locks his boss out of the studio (!) and takes control of the console, because he's determined to keep on tellin' it like it is.
1. Adrian Cronauer (Robin Williams) in Good Morning, Vietnam (1987)
As real-life military broadcaster Cronauer, Williams rallies the troops and offers irreverent commentary about the war; it's a part almost preternaturally suited to the comedian's improvisational skills and frenetic, motor-mouthed delivery. So for the perfect marriage of performer and role, and the general awesomeness of the movie itself, Good Morning, Vietnam reigns supreme.

Read More