Aussie Rap Video Directed by the Late Heath Ledger Hits the Net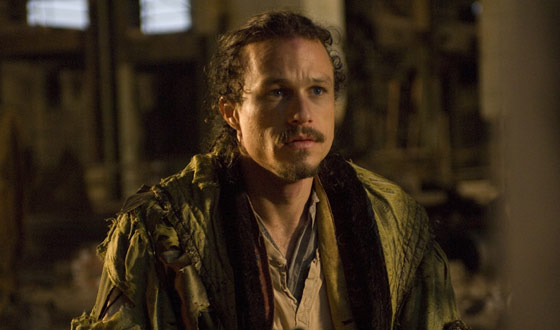 Last week Australian rapper N'fa, of hip-hop collective No Fixed Abode, released a music video that was directed by actor Heath Ledger. N'fa and Ledger had been friends since childhood and the clip for N'fa's song "Cause An Effect" is believed to be Ledger's final directorial work.
The three-and-a-half minute music video was shot in 2007 at Ledger's beach house in the Australian town of Bronte, a beachside suburb of Sydney. A few days before the production, Ledger woke N'fa at 5AM with a surprise phone call and an idea for the video. According to the rapper, Ledger wanted to do an "artistic" video that had "a kind of a revelatory kind of feel about it."
The day before shooting, both friends went out to find wardrobe, a
massive black sheet to use as a backdrop, and two makeup artists to
assist on the shoot. The vision of the video — the
idea, the design, the look and the makeup — was all Ledger's. Australian director Michael Gracey, a friend of Ledger's, helped
with the lighting. Ledger shot the video with a single camera in the
garage of his Bronte beach house. N'fa remembers him as a very animated
and hands-on director during the shoot, "Heath was basically running
around directing each shot — This! This! Hands up, move! Step left,
step right! Keep still, keep still!' — so it was a really cool day,"
recalls the rapper.
Unfortunately, Ledger didn't live to edit the video and finish his
vision. After Ledger's death, his friend and production partner Matt
Amato edited the footage into a music video, which screened last
month at the Rome Film Festival as part of a tribute to Ledger and his
directorial work. N'fa was extremely moved by Ledger's arty red, white
and black themed clip, saying, "Every day I count my blessings that I
got to have him direct this piece of art."
"Cause An Effect" wasn't the first music video Ledger had directed.
As a partner along with Amato and several others in The Masses — a Los
Angeles-based film, music and art collective — Ledger had already
directed several clips for artists like Ben Harper, the late Nick
Drake, and indie rockers Modest Mouse. In August Modest Mouse released
their Ledger-directed music video for "King Rat", a song off their latest EP, No One's First, and You're Next.
N'fa hopes that people will watch his newly-released music video for
"Cause An Effect" and see that Ledger was "a creative guy… in many
ways, ahead of the curve." The rapper's memory of working with his
boyhood friend on "Cause An Effect" is a good one, saying, "The thing
that was special about Heath was that he held each moment very highly
in his hands, and so even in a situation of being directed by him in a
video, every moment was exciting, every moment was… really cool."
Ledger's final movie, The Imaginarium of Dr. Parnassus, directed by Terry Gilliam, will open in select cities on Christmas Day.
Read More