Al Pacino's Great, and He's Even Better When He Taps Into His Inner Monster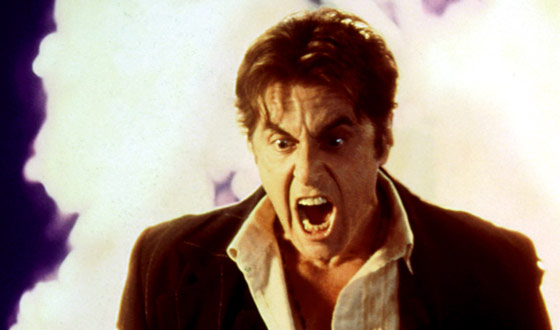 There's no arguing the fact that Al Pacino's one of the fiercest actors of his generation. Still, despite the nuanced portrayals he's delivered over the decades, there's nothing better than when Pacino works himself up into a mindless rage. The movies in which he does so may not be his best — at least not in the traditional sense — but there's nothing more entertaining than when Pacino lets his freak flag fly. As he does in…

The Recruit (2003)
While this conspiracy pic is far from Pacino's best work, it does contain a few of those moments where you have to wonder whether Al Pacino might actually be nuts in real life. When Colin Farrell foils a scheme he's cooked up, Pacino, cornered, totally loses it, yelling, "I'm obsolete! I'm irrelevant! Me! Shame on you! You yank me home, you shove me out in the woods!" It's a glorious moment for any true Pacino fan.

Any Given Sunday (1999)
As a typically acerbic, old-school coach, Pacino puts his own stamp on that sports flick staple: The motivational speech. Is anyone better equipped to raise his volume, decibel by decibel, as he hammers on about gaining success in football inch until he's finally spitting and screaming in all his Pacino-esque glory? By the time he's finished, nobody on that team can even consider losing that game.

The Devil's Advocate (1997)
Pacino as Satan. It sounds almost too good to be true, but it happened, and it was glorious. Pacino lulls the audience into a false sense of security by operating at a reasonable volume for most of the flick, but once he's revealed as Lucifer, he spends the rest of the movie ranting and raving like a total lunatic. What could be better than Pacino shouting lines like "We're comin' out, guns blazin'!," for half an hour or so?

Scent of a Woman (1992)
Not only did Pacino win his first Oscar for this role, as a blind Army veteran on the verge of suicide, but he also set the standard by which all later Al Pacino outbursts would be judged, periodically punctuating his sentences by yelling "hoo-ha!" The phrase, taken by Pacino from the Army officer who trained him for the role, would become synonymous with Pacino and inspire many a less memorable impression among movie fans.

Dick Tracy (1990)
Pacino's campy villain, Big Boy Caprice, is the model against which all campy villains ought to be judged. Wearing a perpetual expression of bemused insanity, Pacino's villain is perpetually riled up: He shouts at a piano player doing a bad job, crushes his fingers, and slaps one of his paramours (Madonna) in the face, whilst insisting, "That was none of your business. I'm your business!" Fun guy.

Scarface (1983)
This beloved gangster flick features Pacino at his best — and at his most apoplectic. Pacino doesn't just flip out in one scene; he plays the entire movie that way! As Cuban coke kingpin Tony Montana, he has plenty of opportunities to rant and rave. In the movie's infamous ending, a coked-out Pacino really hits his stride, coining catch-phrases left and right, such as "Say hello to my little friend!"

Dog Day Afternoon (1975)
This flick contains an outburst that ranks amongst the most famous in movie history. As a bank-robber holding hostages during a botched robbery, Pacino riles up the crowd of spectators by leading them in a chant of "Attica! Attica!" While lacking the ridiculousness of some of his later roles, the scene shows that even the young Pacino had a knack for the outrageous.

The Godfather Part II (1974)
Even The Godfather: Part II, arguably Pacino's greatest role, isn't without one spectacular over-the-top Pacino showcase. Upon finding out his wife aborted their child and pretended she had a miscarriage, he loses it completely, slapping her and yelling "Bitch, you won't take my children … YOU WON'T TAKE MY CHILDREN!" The scene is all the more important as it also apparently serves as the genesis of Pacino's career as a serial screamer.

Read More