Where the Wild Things Are Review – A Wild Rumpus for All Ages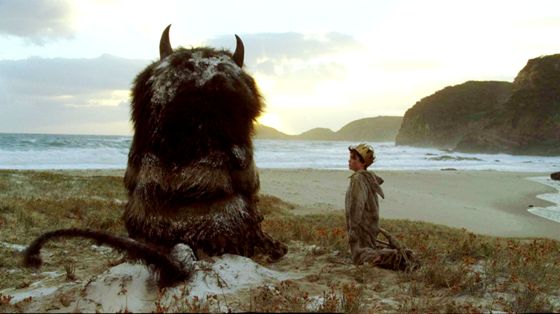 Where the Wild Things Are Review – A Wild Rumpus for All Ages" width="560″/>
Maurice Sendak's Where the Wild Things Are contains about nine sentences and a couple dozen illustrations. But in those nine sentences, the book gets at something profound about a childhood impulse that never truly leaves us: A desire to stomp, rage at the world, and run away (i.e., throw a tantrum), coupled with an even deeper need to come home. Director Spike Jonze's wonderful adaptation wonders how to get perspective on those impulses. How, in other words, to grow up. It's a coming-of-age fairy tale, delivered with remarkable subtlety, patience, and confidence in its young audience.
The first thing you'll notice about 9-year-old Max as interpreted by Jonze, co-writer Dave Eggers and star Max Records, is how unprecocious he is. Max is not your typical movie kid, preternaturally smart, poised and brave. Like most 9-year-olds he's rambling, inarticulate, amusing, adorable, fiercely imaginative in a largely incoherent way, and sometimes kind of obnoxious. And because he's so real, when he screams, bites his mother in the shoulder, falls to the ground, cries in horror and shock and runs out of the house, we know exactly how he feels. The emotional specificity of this moment is damn near unprecedented in a family film; I was genuinely shaken.
Max takes refuge in some shrubbery, where he finds water and a tiny little boat moored to the shore. He gets in and sails, and sails, and sails. The seas churn, and just as things begin to look dire, he spots a forested island. In the woods, Max finds a campfire with a group of large, strange-looking creatures making a ruckus. They bicker in English, and when Max tries to befriend them, they threaten to eat him. "Be still!" Max yells, quickly improvising a story: He's a king with special superpowers, you see, and he's come to help them. Overgrown children that they are, they believe him — and, in a linguistic flourish that almost single-handedly made Maurice Sendak famous, Max commands, "Let the wild rumpus start!"
The remainder of Max's time on the island is fairly uneventful by normal narrative standards. He gets acquainted with these odd creatures: The spastic Carol (James Gandolfini); the shy, quiet, goat-like Douglas (Chris Cooper); the sardonic Judy (Catherine O'Hara); the lovely, somewhat motherly KW (Lauren Ambrose). He commands that they build a fort, a place where "only the things that we want to happen will happen," and where they can all sleep in a big messy pile of limbs and fur. They have a dirt clod fight — all in good fun, until someone starts crying. Soon, Max sees that the Wild Things have come to depend on him: That what he does has consequences, that others can get hurt too, and that a hissy fit can be upsetting and even frightening. Seeing things in this new light gives him a chance to find his place in the world to which he must eventually return.
Where the Wild Things Are went through some well-publicized production struggles, and in a way it's astonishing that it got made at all. This is a relatively big-budgeted family movie that depends almost entirely on emotions: Carol's insecurity, Douglas' fragility, Max's anger, pride and wounded core. Very little "happens" in the traditional sense. But these characters are drawn so vividly that the movie is riveting — as well as funny, charming and disarmingly sincere.
The upshot is that Jonze has managed to make a Hollywood movie — ostensibly for children, no less — without watering down his cinematic sensibilities. At the same time, I think kids will forge a real connection with Wild Things, and love it far more than they ever could Transformers or Night at the Museum or whatever. It does honor to Maurice Sendak's masterpiece.
To get an alternate movie review of Where the Wild Things Are, go to AMC Filmcritic.com
Read More