Web Stalker – We Hardly Knew Ya, Halloween 3D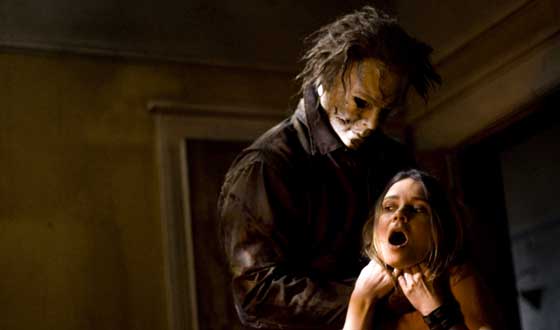 Halloween 3D" width="560″/>
Those poor Weinstein brothers! Once the golden boys of the indie movie scene, they just can't seem to catch a break these days. First rumors start circulating that Summit Entertainment — aka Twilight Inc. — might be swooping in to save their beleaguered movie shingle. Then they announce that they're putting plans for their forthcoming Halloween 3D on hold, which, despite their very reasonable-sounding explanation, only serves to make them look sort of pathetic. But who really loses here? That would be horror fans, since the Halloween threequel they were anticipating (some with more enthusiasm than others) now seems like a very shaky proposition.
Nikki Finke broke the news last week that the script had only just arrived, and with production scheduled to kick off in November to accommodate My Bloody Valentine director Patrick Lussier's schedule, things were moving just a little too quickly. "Sure," Finke continued, "The rumor mill claims [The Weinstein Co.] is out of money amid all those layoffs, and TWC couldn't agree on a $2.5M budget battle with Lussier, and TWC had key crew ready to fly to Shreveport. But I understand that Bob Weinstein shut down H3D pre-production "because Bob just felt it was rushing too fast." Sounds like only half the story, doesn't it?
Surprisingly, many of Web Stalker's generally sharp-tongued cohorts in the blogosphere have refrained from kicking the brothers Weinstein when they're down. "Now, delaying a film — particularly a horror sequel — in order to improve its quality is an all-too-rare move in Hollywood," explains EmpireOnline, "So we applaud Weinsteins' decision." "All in all, this is a good decision," concurs WeAreMovieGeeks, "as work on this project seemed to be coming down at a break-neck pace, something that shouldn't be happening with any project, let alone a 3D production." Trust DreadCentral to boil the situation down to its pithy core: "Pretty smart move if you ask me. They recently rushed [Rob] Zombie through his last Halloween film, and we all saw how that one turned out."
Of course, others have their doubts. "It's all a bit fishy," writes Hunter Stephenson of SlashFilm. "Could the so-so box office receipts for Zombie's H2 also be to blame for the decision?" But having raised the question, he concludes not. "The Halloween films are still profitable — H2's grosses are nothing like a Land of the Lost or a Pathfinder [both expensive non-starters]… So, I really don't think H2's performance plays into this late night decision, but I also don't buy TWC's explanation about not wanting to rush H3D. Inglourious Basterds was a much harder film to make, and Harvey Weinstein and Co. put Quentin Tarantino's ass into gear, as did the director himself. Lussier knew the tight schedule when he came aboard." Collider is even more suspicious, snarking that "[i]t's hard to really believe that this is the real reason behind the film all of a sudden being put on hold, but I'm going to pretend that good producers who really do care about their films still exist in Hollywood and that this is really all true. I'm also going to be naive about this one just because trying to figure out what is going on with the Weinstein brothers these days seems like a frustrating waste of time."
Sounds like someone's missed a few doses of happy pills! At any rate, the real question is whether Halloween 3D has a future at all. JoBlo caught up with Lussier himself after the news broke, and he had this to say: "All of us, Bob, Malek [Akkad], Todd and myself were all on the same creative page. There was a very narrow window for us to move forward. That window closed for now. After Drive Angry [the Nicolas Cage vehicle Lussier is directing next, also in 3D], there's a chance it'll open again."
"Note the way he says "there's a CHANCE it'll open again," responds ScreenRant. "Yikes. In my experience, whenever a movie starts to stutter-step like this, it's good not to get your hopes up. That way you won't be TOO disappointed if (when???) the film ends up DOA for good." CinemaBlend is similarly pessimistic. "Apparently the plan now is to wait until director Patrick Lussier is available following work on his next film, which could make H3D's shoot start sometime in the spring. That is, provided they don't spend the time between now and then realizing how poor an idea this was to begin with, and shutting the thing down entirely."
Whew! This has really been quite the ride, what with the initial flurry of fan outrage when the project was announced, the hullabaloo over who the new director would be, the announcement that production was suddenly imminent and now this regrettable back-tracking. Don't know about you, but I'm anticipating the onset of some serious Halloween fatigue. Wait, what am I saying? Already here!
Read More