Web Stalker – The Crow Reboot Flies in the Faces of Brandon Lee Fans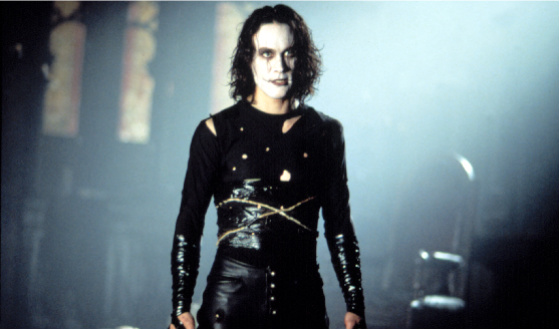 Time to break out the grease paint and electrical tape! This week's back-from-the-dead movie franchise? That's right: The Crow. And in case the overwhelmingly placid attitude movie bloggers have adopted in recent weeks had you worried that they'd lost their edge, rest assured: This crow definitely doesn't fly. (Sorry!)
When Variety broke the news back in December 2008 that Relativity Media was looking to revamp the Crow series with a reboot by League of Extraordinary Gentlemen director Stephen Norrington, movie fans were livid. Livid! "After the glistening turd that was The League of Extraordinary Gentlemen," sang Chud, "I'm sure a lot of you would be happy never to hear from director Stephen Norrington again. But let's see if this deal actually goes through…and then who is cast. Brandon Lee's shadow is long, for obvious reasons, but maybe we'll get a new goth star out of the deal." But fans weren't buying it. Some of them even made a petition! And it didn't end there…
In March, The Crow's beloved original director, Alex Proyas, himself entered the fray, spitting to DigitalSpy that, "The whole notion of remaking [The Crow], to me, is just ridiculous and I'd have nothing to do with it, as I've had nothing to do with any of the sequels or the TV show or any of that stuff." That statement, in turn, led the MTV Movies Blog to muse, "Perhaps, as Proyas suggests, it's best to let sleeping dogs — or birds — lie."
Well, apparently Relativity didn't agree, because the latest news (courtesy of Comics2Film just last week) finds Norrington having turned in a "very well-received script," which in turn means that he'll be moving into the casting stage. So what's the good word?
Well, it's bad. As ScreenRant
sums it up, "Norrington is not fit to handle this material
and I hope this project is haunted until he decides to destroy some
other source instead." (Something tells me it would behoove us all not to
get on ScreenRant's bad side. ReelEmpire's
response is more sour still: "The only way I'll see a remake [of] The Crow is if I'm
draggged into the theater unwillingly or if Taylor Kitsch takes on the
role of Eric Draven. Even if that were the case, I'm still not sure I'd
be all for seeing a remake [of] The Crow, which is an absolute one of a
kind feature." Slashfilm
agrees: "I'll be honest: ever since a chubby Edward Furlong played the
broody superhero in the form of a guy named Johnny Cuervo in 2005's
diaper The Crow: Wicked Prayer, aka The Crow IV, I can't resist smirking
at future incarnations."
And if you're any kind of fan of this project don't even bother checking out the messageboards over at The Crow's Loft (yes, such a site exists, and it's thriving). Suffice it to say that you'll start suspecting everyone you know of having a secret Crow shrine in his or her closet.
JoBlo for one, entreats you to look on the positive side. "I know you all hate that this movie exists, but let's try to find a silver lining by picking a Lee replacement that might actually make it worth watching…." The talent currently dominating the resultant commentator thread? Joseph Gordon-Levitt, Taylor Kitsch, and Jason Statham, with at least one misguided vote each for Jack Black, Zac Efron, and Billy Zane. Thank heavens producers never, ever listen to the fans!
Read More