The Ten Faces of Wyatt Earp – From Kevin Costner to Erroll Flynn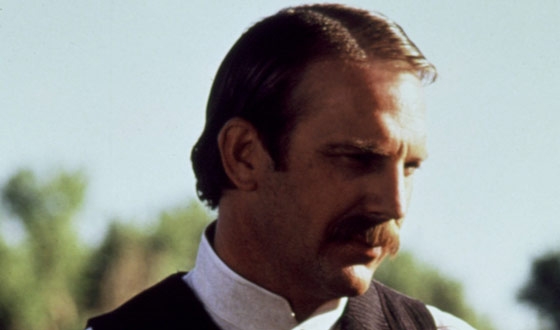 Wyatt Earp was a jack of all trades: gambler, buffalo hunter, con man, prospector, and Hollywood film consultant. But it's as the fearless lawman who brought justice to Dodge City and made a last stand at Tombstone's O.K. Corral that he's best known. The historical facts might not stack up with the legend, but what's certain is that the man contained multitudes. So how can only one actor do him justice? Lucky for us, there are plenty to choose from! Let's move back in time from most recent backwards and see the manifold ways he was portrayed.
1. Kevin Costner, Wyatt Earp (1994)
While the other movies included here tend to take on pieces of Earp's life, Costner deserves credit for painting on a larger canvass. He deals with Earp's boyhood in Missouri, his gunfighting at Tombstone, and even his prospecting in Alaska. As such, Costner's Earp is a more full-figured film portrait, even if it could have done with a little more trimming and focus.
2. Kurt Russell, Tombstone (1993)
This is one of the best Western portrayals of the Earp story — surprising, since Earp's character is largely relegated to the background. Sam Elliot, Bill Paxton, and, of course, an anemic Val Kilmer as Doc Holliday are all more fleshed out than the man at the center of things. But perhaps it's because Russell is able to be a kind of mythic silhouette that makes the film work. We know who Earp is, so why belabor the point?
3. James Garner, Hour of the Gun (1967)
A decade after making Gunfight at the O.K. Corral, director John Sturges decided to take another shot at the legend with this sequel. Rather than the muscle-bound Burt Lancaster, however, he cast Mr. Maverick himself, James Garner. So how does this reprise fare? Not badly. The movie goes where most don't: into the elegiac third act of his life. Garner played Earp again (as an amateur detective) in the 1988 TV movie Sunset.
4. Guy Madison, Gunmen of the Rio Grande (1965)
What's the spaghetti Western take on Earp? That's easy! Violent shoot-outs, historical inaccuracies, and allusions to Rio Bravo and A Fistful of Dollars. Playing fast and loose with the facts, Gunmen of the Rio Grande tracks Wyatt as he journeys to the Mexican border to vanquish a den of desperados. Like Eastwood, Guy Madison was a Western TV actor who found himself within the price range of European genre directors. Not much has been written about this 1965 film, but the trailer alone whets the appetite.
5. James Stewart, Cheyenne Autumn (1964)
Okay, this is the least essential Earp. But as an irreverent interlude in John Ford's final flick, it's still one of my favorites. James Stewart plays the former marshal for laughs, as he tries his luck at the gambling table beside old compadre "Doc" Holliday (Arthur Kennedy). If you want, you can bundle this with another humorous take by Stewart: as hangdog hound dog Wylie Burp in An American Tale: Fievel Goes West.
6. Burt Lancaster, Gunfight at the O.K. Corral (1957)
Lancaster's strong performance set the standard for future Earps, not to mention Kirk Douglas's scene-stealing, hard-drinking version of cardsharp Doc Holliday. But the movie's true star will always be the tour de force shoot-out that gives the movie its name. The elaborately staged scene took a reported 44 hours to film (for a mere six minutes of screen time).
7. Joel McCrea, Wichita (1955)
Call it The Young Wyatt Earp Chronicles. Here we see at the frontiersman's early days as a policeman on the mean streets of…Wichita. Sound made up? That part's actually true! The rest, with Earp single-handedly battling the lawless elements of the Kansas cow town, is more suspect. In any event, Joel McCrea, an unjustly forgotten star who worked with everyone from Preston Sturges to Peckinpah, does a fine job portraying the formative years of a man destined for great things.
8. Henry Fonda, My Darling Clementine (1946)
This is one of the most famous instances of bringing law and order to a forlorn Western territory. Fonda's turn as Earp also has to be one of the most easygoing portraits of the man. He seems like one swell guy, sitting on his porch, going to dances, and meeting with the Clanton gang. I appreciate the stoicism, Fonda, but come on! Show a little spunk!
9. Randolph Scott, Frontier Marshall (1939)
Before doing his best work with Budd Boetticher, Randolph Scott made history in 1939 by playing one of the first screen versions of Earp. Foreshadowing his solitary characters in the Boetticher films, Scott is all by his lonesome as he faces down the Clantons at the O.K. Corral. It's a solid performance, but in the end it's overshadowed by the interesting trivia surrounding the movie: It was actually a remake of the same film that led to My Darling Clementine.
10. Errol Flynn, Dodge City (1939)
Swashbuckler Errol Flynn doesn't go by the name Earp (the name's Wade Hatton), but his role is clearly based on the gunslinger, as he strives to bring justice to Dodge City. This is the debonair actor's first Western, and Flynn proves himself capable, even if the shootouts trump his usual swordplay. But there are some oddities: while Flynn hails from Australia, for some reason he speaks in an Irish brogue.

Read More