The Ten Creepiest Fright Flicks of Edgar Allan Poe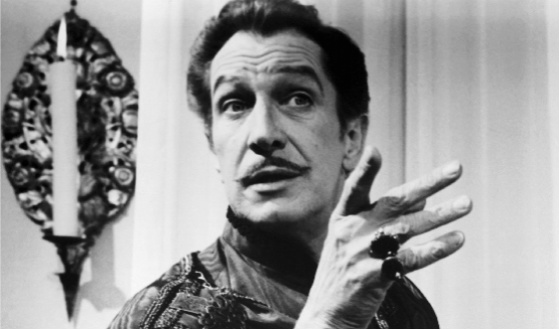 Sylvester Stallone's Edgar Allan Poe biopic (cue the "Yo, Poe! jokes) has resurfaced with Robert Downey Jr. in the lead and Poe's short stories and poems are still being recycled into movies and TV shows at a furious clip. If his grocery list turned up, someone would probably film that, too. There are at least 200 movies based on the works of America's first horror writer, which puts him up there with Charles Dickens and William Shakespeare in the "most adapted writer" sweepstakes. But great Poe movies are tough to find. Tough, but not impossible: So feast your eyes on the top ten Poe and Poe-related movies:
10. Tales of Terror (1962)
Yes, it's a lesser entry in Roger Corman's famous Poe series: Two of the three segments are pretty forgettable. But "The Black Cat" rolls that story and "The Casque of Amontillado" into one big ball of hammy goodness tailor-made for Peter Lorre and Vincent Price, who appear to be having the time of their lives playing arch-frenemies.
9. Castle of Blood (1964) and Web of the Spider (1971)
According to the credits, Italian director Antonio Margheriti's two variations on a theme (the first in B&W, the second in color) are based on Poe's stories "Danse Macabre" and "Night of the Living Dead." Never heard of 'em? That would be because they don't exist. But Poe is a character: He challenges a skeptical sucker to spend the night in a haunted house, which works out about as well as could be expected. Castle of Blood, which stars Barbara Steele, is pretty spooky, but Web of the Spider has Klaus Kinski as Poe. Decisions, decisions!
8. The Conqueror Worm (aka Witchfinder General) (1968)
Also not technically based on a Poe source material, which American distributor AIP decided to rectify by getting star Vincent Price — the face of almost all of their bonafide Poe pictures — to recite Poe's poem "The Conqueror Worm" over the opening credits. But Witchfinder General is one hell of a period tale of real-life horror, and Price gives one of the best performances of his career as 17th-century witch hunter Matthew Hopkins.
7. The Pit and the Pendulum (1961)
Corman's second Poe movie set the tone for the rest of the series: Price is in high camp form as a Spanish nobleman with the best darn torture chamber a boy ever had hidden in his basement. Price's cackling is incredibly entertaining — he is supposed to be a full on loon — and Barbara Steele (who later married screenwriter James Poe) is suitably haunted as his wife.
6. Vincent (1982)
Tim Burton's clay-animated, B&W tribute to Poe and Price, made while he was still working for Disney, is a tiny gem. The story of a Vincent, a boy, who wants to live in a a Poe-like world of gothic horror instead of the boring suburbs, this six-minute labor of love features delightfully sonorous narration by Price.
5. The Pit, The Pendulum and Hope (1981)
Czech animator Jan Svankmajer's 15-minute animated movie condenses the essence of version of Poe's tale into a surreal, throat-tightening nightmare. If it were any longer, it would be too unbearable to watch.
4. The Fall of the House of Usher (1960)
The first of Roger Corman's adaptations of Poe stories, Usher stars Price as a nobleman haunted by his decaying family house and the memory of his late sister. It's the polar opposite of The Pit and the Pendulum, and Price's somber, world-weary performance is exceptional.
3. Spirits of the Dead (1968)
It sounds like a can't miss: Three top-notch European directors — Louis Malle, Federico Fellini and Roger Vadim — adapting three lesser-known Poe pieces with all-star casts. Vadim and Malle's segments are pretty poor, but Fellini's "Toby Dammit" knocks it out of the park. A high-strung, alcoholic actor (Terence Stamp), in Rome to make a "Catholic western," is driven around the bend by a little girl ghost driven to madness by a little girl ghost. Fellini turned "Never Bet the Devil Your Head," a story no one reads, into a short movie every Poe buff should see.
2. The Tell-Tale Heart (1941)
Directed by Jules Dassin (Night and the City), this is twenty minutes of pure, gut-wrenching paranoia and psychological torment. Which is, of course, a good thing. The changes to Poe's story are strengthen the relationship between the remorseful murderer and the man he kills, and the performances are top notch.
1. The Masque of the Red Death (1964)
Atmospheric, imaginative and stunningly photographed, Masque is the high-water mark of Corman's Poe movies. Price is chilling as a decadent aristocrat who gathers his rich, depraved friends to wait out the plague in a lavishly appointed, heavily fortified castle — people outside be damned.

Read More