The Stepfather Star Amber Heard Describes Her Terrifying Gamble to Bare It All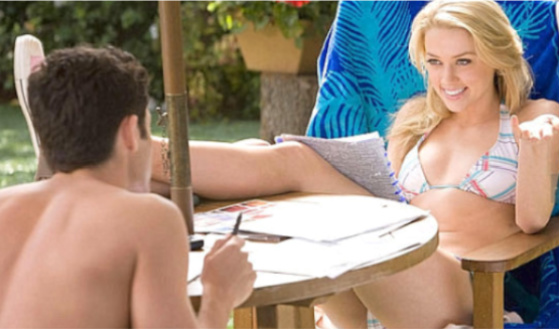 Texan actress Amber Heard describes the serendipity of being in two horror movies currently in theaters (Zombieland and The Stepfather), relates the horrors of the modern family and names her all time favorite fright flick in Horror Hacker's exclusive interview.
Q: You have two horror movies opening almost back to back. How'd that happen?
A: Have you looked at my resume? (laughs) Seriously, though, Zombieland is more a comedy and The Stepfather is a thriller I did right after Pineapple Express… or maybe Never Back Down. Either way, it was a really long time ago and for me it seems weird that it's coming out [in theaters] at all.
Q: Tell me about your Stepfather character.
A: Penn Badgley and I play Michael and Kelly, a long-term young couple. Kelly is the voice of reason: She casts doubt on the evidence and clues Michael finds and the conclusions he draws about his new stepfather. She's the only person he feels safe confiding in and ironically, she doesn't believe him at all.
Q: The original Stepfather tapped into cultural anxieties about the future of the traditional family. Today, blended and non-traditional families are commonplace.
A: Maybe that's what makes it extra scary now — the stepfamily is a totally ordinary thing.
Q: Did you watch the original?
A: If I haven't already seen the original of a remake I make it a point not to go: It's hard when you're doing a remake not to try and carry a piece of the original with you. But I want to avoid that.
Q: Your role as the hot chick-turned zombie in Zombieland is small but memorable — how did you tap your inner walking corpse?
A: Three-and-a half-hours of hair and make-up.
Q: Hair and make-up didn't give you that foot-dragging, broken ankle walk.
A: Thank you! I did practice my zombie walk… I'm sure that was interesting for the neighbors.
Q: Your first major role was in the neo-slasher All the Boys Love Mandy Lane, in which you play the new dream girl in town who gets all the local boys ' hearts racing… with murderous results.
A: Yeah, I like that it follows the conventions of the genre but takes this satirical approach to them at the same time.
Q: You were also in The Informers, based on the Bret Easton Ellis novel and I have to ask: There were vampires in the book but none in the movie — where did they go?
A: I was really surprised by how much was sacrificed by the decision makers… The script was fantastic, and that's why the gamble of baring it all seemed worthwhile. [As an actor] you have so little power… once you've filmed your takes, that's it. You've laid down this performance on film and any — or even all of it — can be cut.
Q: That feeling is why many actors decide they want to be filmmakers…
A: …and that feeling is what got me into producing [And Soon the Darkness].
Q: You're also making The Ward with John Carpenter…
A: I just wrapped The Ward; I play a young female who's put into a mental institution. We don't know much about her or why she's there and she doesn't seem to know much either. Or does she? It's a really good script… John and I went through it several times and talked about everything from wardrobe and hair to dialogue. John is really open to collaborating — he respected my opinion and I thought that was really, really phenomenal for a veteran like him.
Q: The Ward is a ghost story, and ghost stories always have a psychological component.
A: Ghost stories are popular for a reason. I think there's an instinct to make grotesque horror films that are purely carnal, like the Saw movies. There's an element of degrading humanity; not that the Saw movies are bad or wrong, but… The Ward isn't that kind of film.
Q: So, having knocked around the genre for several years, do you have any favorites?
A: Ooh… that's a good question but it's hard to answer. I love slasher films, but I have to say that The Shining is its own thing… The Shining is going to be my favorite right now.
Read More