The Dark Knight Studio Brings Gravel to the Big Screen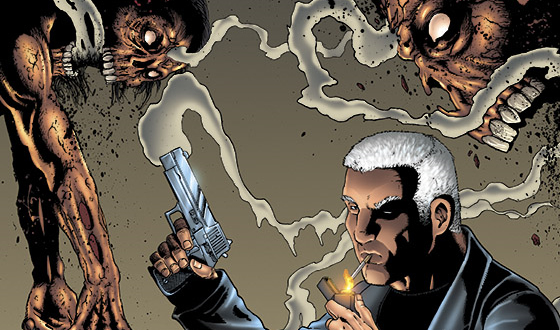 The Dark Knight Studio Brings Gravel to the Big Screen " width="560″/>

Legendary Pictures knows what comic book fans want — quality movies featuring their favorite characters. And so far they've delivered, bringing us The Dark Knight, 300, Watchmen, and the upcoming Jonah Hex. Now, the studio has optioned Gravel, a supernatural action series from hot comic book writer (and Twitter enthusiast) Warren Ellis (Planetary).
William Gravel is a British SAS agent who fights supernatural horror once the sun goes down. (Gravel first appeared in a series of minis, and later an ongoing series, from Avatar Press.) The surly, no-nonsense Gravel is a standard Ellis creation — an everyday, hard-drinking bloke caught up in crazy zombie and demon battles.
Word has it that Ellis will take a pass at the Gravel screenplay, and serve as the movie's executive producer. Will Ellis' distinctively dark and satiric voice shine through? Are moviegoers ready for James Bond meets Blade? And will Gravel make it to the screen faster than Red, Ocean, and Desolation Jones, three other projects based on Ellis' work, currently languishing in development? For now, we wait, and enjoy his comics (and tweets).
To see more great comic artwork, check out our Horror Comics photo gallery.
For more on Gravel, visit ComicMonsters.com.
Read More