The Best Sam Peckinpah Westerns Are a Wild Bunch Indeed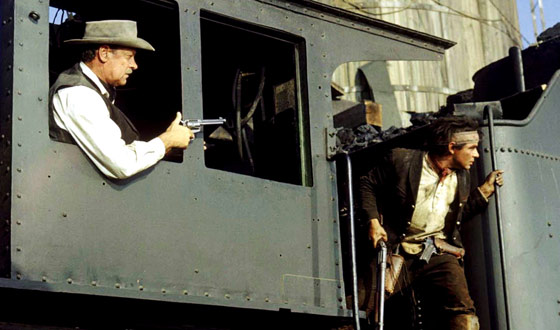 Legendary director Sam Peckinpah blew apart the Western with movies packed with explosive violence and fatalistic antiheroes. Between battling the studios — not to mention the bottle — the iconoclastic director created a ragged Wild West that was brutal in its beauty. There's gold to be found in even the craggiest of his creations, but the following round-up represents the pick of the litter.
Bring Me the Head of Alfredo Garcia (1974)
This is one of Peckinpah's most personal movies, as the
sunglasses-wearing, mustachioed Warren Oates channels the director in a
gruesome fable about the burdens of a decapitated head rotting in a
sack. Bring Me the Head of Alfredo Garcia
was reviled upon release, but re-appraisal has largely turned the tide.
A Western in feel more than appearance, its influence is all over
movies like The Three Burials of Melquiades Estrada and No Country for Old Men.
Pat Garrett & Billy the Kid (1973)
This flick is another of Peckinpah's
problematic productions (more on that later!), and one of
his most ambitious. Sliced and diced by the studios, it's still one of
Peckinpah's finest efforts. It features fine performances from
Kris Kristofferson and James Coburn as opposing souls, and Bob
Dylan's wistful, off-the-cuff soundtrack is a delight.
Junior Bonner (1972)
No
throat slashing, shotgunned women, or Gatling guns? Say it ain't so,
Sam! The director, perhaps chafing under his new nickname "Bloody Sam,"
skipped the gore in this modern Western starring Steve McQueen as an
alienated rodeo rider. Its finely-wrought characters and lack of
gunplay didn't exactly set fire to the box office, but it's still among
Peckinpah's finest efforts, showing what he could do without depending on a blood squib.
The Ballad of Cable Hogue (1970)
Coming soon after The Wild Bunch,
this comic Western must have given Peckinpah fans a case of whiplash.
In place of the armed sadists of its predecessor, we get Jason Robards
as a merry rapscallion who works a patch of barren desert into a
thriving stagecoach operation. Nevertheless its wackiness gets a lot
more despondent as it goes along. Peckinpah himself hinted at the
loftier themes buried beneath its dusty humor, calling it (modestly) "a
new version of Sartre's The Flies with a touch of Keystone Cops."
The Wild Bunch (1969)
With its gore-laden set pieces, The Wild Bunch
pushed onscreen violence to its limits, and moviegoers were nauseated,
indignant, and entranced in equal proportions. Wanting to explore the
push and pull of violence, Peckinpah used the audience as his guinea
pig, but to his horror and surprise, audiences reveled in the
bloodbaths and rooted for the killers. That the movie's success is
mingled with its failure is perhaps poetic justice for a Peckinpah pic.
Noon Wine (1966)
After the debacle of Major Dundee and a high-profile firing from The Cincinnati Kid,
Peckinpah became a pariah in Hollywood. So what helped rejuvenate his
career? A one-hour TV special, shot on video! Jason Robards has rarely
been better than in this tragic tale set on a Texas farm. Producer
Daniel Melnick took a chance on Peckinpah, and it paid off in critical
laurels.
Major Dundee (1965)
Charlton Heston is phenomenal as an imperious Union officer who frees
his Confederate captives to hunt Apaches, yet this movie falls short of
its grand ambitions. Hacked by the studio, beset by production
difficulties, it's a powerful but flawed work. But it has its moments:
Who wouldn't like to see James Coburn as a one-armed Indian scout? And
a restored version released in 2005 offers a vivid new look.
Ride the High Country (1962)
Though it lacks the bombast of his future productions, Ride the High Country
elegantly sums up Peckinpah's pessimistic worldview. Its elegiac
atmosphere is complemented by the brilliant casting of Randolph
Scott and Joel McCrea — two B-Western stars in the twilight of their
careers. As a former marshal moving gold through hostile territory,
McCrea solidifies the world-weary old-timers that would reappear in
Peckinpah's frontier. It's simply the most perfect movie in his
repertoire.

Read More