The 28 Days Later Saga Continues in a New Comic Book Series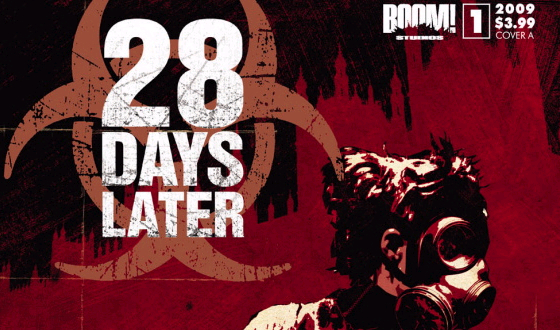 28 Days Later Saga Continues in a New Comic Book Series" width="560″/>
As serious fans know, most movie tie-in comic book are pretty lackluster: Scripts that recycle concepts already explored in the movie, art that turns flesh-and-blood actors into stiff mannequins. At best, they are celebrity vanity projects. But Boom! Studios, the publisher behind the new 28 Days Later series, is giving movie comics a good name. Their recent Die Hard: Year One series is already far more thrilling than Live Free or Die Hard. (They've also had great success with some gorgeous-looking comics based on the Pixar and Muppet characters.) And with their new, ongoing 28 Days Later series, the story of what happened between the first movie and 28 Weeks Later will finally be told.
The 28 Days Later franchise is no stranger to quality comics. 2007's 28 Days Later: The Aftermath, written by 30 Days of Night creator Steve Niles, expanded the back story of the zombie-making Rage virus through a series of grisly vignettes. The new 28 Days Later series focuses on Selena, one of the first movie's survivors, and her quest to return to Great Britain. (Wait, isn't that where all those zombified people are?) Writer Michael Alan Nelson will be familiar to fans of BOOM!'s horror titles Hexed and Fall of Cthulhu, while artist Declan Shalvey is a rising star on the scene. And if that isn't enough to convince you to pick it up, the first cover features a tough babe coming at a Rage zombie person with a giant knife. You pretty much can't beat that on the awesome scale.
To see more great comic artwork, check out our Horror Comics photo gallery.
For more on 28 Days Later, visit ComicMonsters.com.
Read More