Steroids and Dog Fighting Got You Down? Rocky and Rod Tidwell Can Help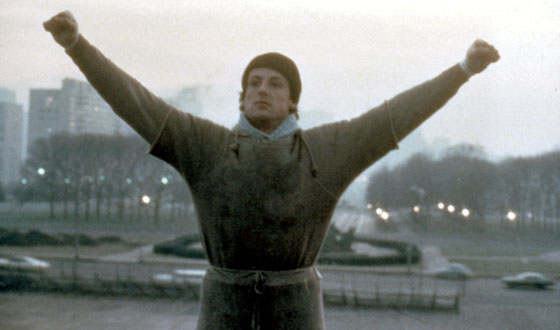 In this age of steroids and ever-increasing cynicism about everything, many pine for the good 'ol days of sports. Even if they weren't all that great: Babe Ruth was a serial adulterer, Mickey Mantle was a drunk and Ty Cobb was a virulent racist. But no matter the era or sport you're ashamed of, there's still one place you can find true heroes playing your favorite game: The movies. Our favorite fictional athletes — meaning ones that aren't based on a real-life jock — are everything the real ones ought to be. They're humble, fun, quirky, or just plain great. Who are the MVP's of this race? Well…

Apollo Creed (Carl Weathers) in Rocky IV (1985)
Rocky's original nemesis begins as a smack-talking villain, the arrogant foil to Rocky's humble simpleton. What makes Creed lovable? He grows. In Rocky II (1979), he gives Balboa a rematch. By Rocky III (1982), he's training his former foe, and in Rocky IV, he enters the ring as the good guy against Dolph Lundgren, only to be killed. Plus he's not even fighting for cash, he's just proving "Russia doesn't have all the best athletes!" Now there's a patriot with a heart of gold.

Dottie Hinson (Geena Davis) in A League of Their Own (1992)
Dottie, the star of the WWII Girls League, is a skinny, sober, good-looking female version of Babe Ruth. She's much better than her peers; she's so good, in fact, that she wins the respect of prickly manager Jimmy (Tom Hanks) and various male viewers unsure as to why they're watching a movie about girl's baseball. Dottie's credentials are legit: Great athlete? Check. Hot? Check. Nice person? Check. Male athletes could learn a thing or two.

Jimmy Chitwood (Maris Valainis) in Hoosiers (1986)
Young
Jimmy Chitwood Chitwood is pretty much Larry Bird… if Bird had saved
his high school coach by walking into a hearing on the coach's job and
telling everyone "I play, coach stays; he goes, I go." Chitwood then
proceeds to lead his team to an improbable upset win in the
Championship by scoring just about every point, including the
high-drama game-winner.

"Wild Thing" Vaughn (Charlie Sheen) in Major League (1989)
Wild Thing is the kind of player who drives stuffy old guys crazy but
actual fans tend to love. Despite talk about how people like to see
sports "played the right way," in reality, people just want to be
entertained. Wild Thing is nothing if not entertaining: From the
rebellious attitude to the goofy glasses, Vaughn's the guy some people
love, others love to hate, but brings a whole new level of flash to the
game.

Rocky Balboa (Sylvester Stallone) in Rocky (1976)
The ultimate athlete-who-could manages to stay humble despite fame and fortune. In Rocky II, he beats Creed, yet is the underdog yet again next tie, in Rocky III.
He wins (against Mr. T) but retains his underdog status no matter who
he's battling in the ring. Add in the fact that he never seems to leave
Philly, plays in the street with local children, and may well have
brought down the Soviet Union in Rocky IV, and you have one of cinema's all-time athletic greats.

Rod Tidwell (Cuba Gooding Jr.) in Jerry Maguire (1996)
Tidwell can be cocky, erratic and annoying, but in reality, he's a
really nice guy. Evidence: HIs career may be foundering, but he sticks
with unemployed agent Jerry (Tom Cruise) regardless. He's also a devout
family man and can't go more than twenty words without referencing how
much he loves that family of his. He's even man enough to cry on
national TV. A hero is born!

Read More