Sigourney Weaver's Movie Credits Go Beyond Alien and Ghostbusters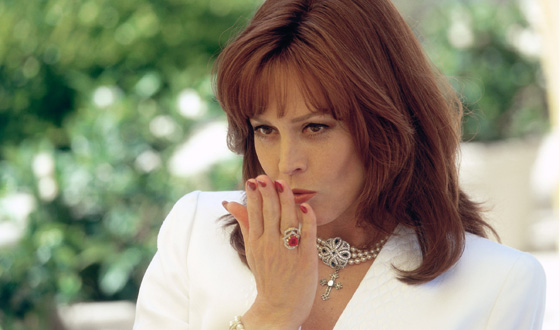 Alien and Ghostbusters" width="560″/>

Has it really been 30 years since Sigourney Weaver changed the face of science fiction and popular cinema with Alien? For James Cameron's upcoming Avatar, Weaver is returning to the genre that first propelled her to fame. But Weaver's career encompasses more than just blockbusters. Here are ten of the lesser-known, but equally admirable, movies to her credit:
Eyewitness (1981)
For her follow-up to Alien, Weaver came back to Earth to star in Peter Yates' (Bullitt) tense thriller/love story. Playing a sharp TV talking head, Weaver demonstrated an early devotion to research by trailing a real TV anchorwoman to imitate her distinctive vocal mannerism. Meanwhile, co-star William Hurt reportedly moonlighted as a janitor to prepare for his role.
Deal of the Century (1983)
The year before Weaver starred opposite SNL alums Bill Murray and Dan Aykroyd in Ghostbusters, she turned up as Chevy Chase's girlfriend in this lesser-known madcap comedy. While the creative team behind this war satire is head and shoulders above the usual Chevy Chase-fare (director William Friedkin helmed The French Connection; writer Paul Brickman penned Risky Business), Deal of the Century was a box office flop. Weaver, however, emerged unscathed.
Half Moon Street (1986)
Aficionados of celebrity nudity
will know this as "that movie where Sigourney Weaver gets naked."
Highbrow filmgoers might remember it as an "erotic political thriller"
with Weaver playing an upscale escort/Middle East scholar playing opposite
Michael Caine. (Only Weaver could pull off that combo.) Now Google
away, Sigourney nerds.
Death and the Maiden (1994)
A
Yale Drama graduate, Weaver's theatrical training shows in this tense
drama, which pits her against Ben Kingsley, as the man who
may-or-may-not have tortured her. Most of this Polanski piece takes
place in one room, but Weaver still electrifies in her performance. Death and the Maiden is as close as you'll get to seeing Weaver onstage without traveling to the Big Apple.
Galaxy Quest (1999)
There's something about high concept comedies and Weaver that is just so right. As the sole female cast member of the titular Star Trek
rip-off TV series, Weaver parodies the stereotype of the buxom scifi
heroine in her hilarious dual roles of Gwen DeMarco and Lt. Tawny
Madison, the ship's communications officer whose job consists solely of
repeating whatever the ship's computer says.
Heartbreakers (2001)
This
con comedy (also starring Ray Liotta, Gene Hackman, and Jennifer Love
Hewitt) would have been a huge hit had it come out during the '80s.
(It's basically a female spin on Dirty Rotten Scoundrels.) Weaver pulls out all the slapstick stops for director David Mirkin (The Simpsons),
proving she can elevate even the most pedestrian comedic material with
a mere raise of an eyebrow or bravura performance of "Back in the
U.S.S.R."
Tadpole (2002)
Tadpole had the misfortune of coming out around the same time as Igby Goes Down, another coming-of-age-in-upper-class-Manhattan tale. But only Tadpole
has Sigourney as a sexy socialite who is the object of her stepson's
misguided affections. And, despite all the icky Oedipal stuff, it's
actually a pretty funny movie. (Bebe Neuwirth also turns up as a fellow
cougar.)
The Guys (2002)
Weaver
returned to her theatrical roots for an adaptation of Anne Nelson's
play — which the actress also appeared in Off-Broadway — about a
journalist tasked with writing obituaries for fallen 9/11 firefighters.
The movie is a family affair: Weaver's husband Jim Simpson directed;
daughter Charlotte is among the cast. Although well-received, audiences
weren't quite ready to deal with the fallout of 9/11 in '02, and the
movie fell under the radar.
Snow Cake (2006)
The
accolades poured in for Weaver's performance as an autistic mother
dealing with the accidental death of her daughter in this little-seen
indie drama. Critics lambasted its mawkish plot, but praised Weaver for
her sensitive portrayal of a high-functioning autistic. Weaver's
preparation for the role (she spent time with autistic public speaker
Ros Blackburn, studying her mannerisms and learning about the
condition) scored her multiple award nominations.
The TV Set (2006)
Shades of Weaver's high-powered Working Girl exec
pop up in her portrayal of a double-talking network president who puts
David Duchovny's TV writer through the ringer. (Fun fact: Sigourney's
dad once ran NBC.) Fans of writer/director Jake Kasdan (Orange County) will appreciate the quick-witted cast (including Arrested Development alums Judy Greer and Justine Bateman), while Weaver fans will revel in her return to smart comedy.

Read More