Scott Sigler – Move Over Michael… Jigsaw Is Horror's New King of the Kill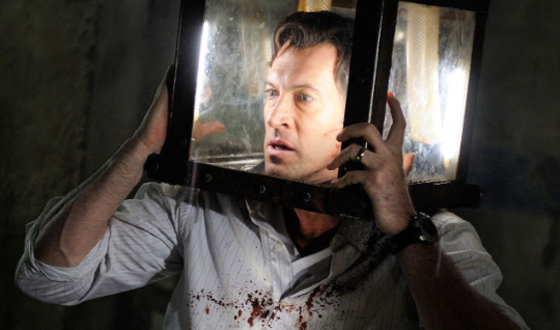 As a child of the 1980s, I like to think that the horror movies of that era are the biggest and best of all time. The '80s and '90s gave us iconic killers like Freddy, Jason and Michael (throw in a Chucky if you like, but the big three are still the big three).
But guess what, Generation X — all our favorite franchises are about to be left in the dust. When Saw VI opens on Friday, it will most likely confirm that the Saw movies constitute the biggest horror-movie franchise in US history.
Hollywood is about making dinero, so we're scoring this contest with straight-up dollas — and Saw is about to become the king of the hill. Granted, this form of score keeping is a little unfair: $20 million in 1989 had a hell of a lot more purchasing power than $20 million in 2009. Since the Saw franchise is only six years old, the box office take of each of its movies is inflated by comparison with, say, any of the Nightmare on Elm Street movies that came out in the '80s. Plus, the average price of a movie ticket in the '80s was between $3.50 and $4.00; it's more than twice that now — hell, in some theaters it cost $16.50 to see The Final Destination in 3D.
So this might not be a pure apples-to-apples comparison. But raw gross is the way Hollywood tracks such things, and if Saw VI takes in $40.3 million, it will surpass Friday the 13th in total franchise revenue and officially don the crown as the biggest horror franchise evah.
But that "all in the last six years" tag also cuts the other way — Saw has just five movies in the franchise, compared to as many as ten apiece in the Big 3. That means Saw dusts them in another category: Average per-film gross. The individual Saw movies, in fact, average at least double the flicks of Freddy, Jason and Michael. The Scream franchise, however, is the king here: The three movies averaged $98 million each.
Shocked? If you're over 30, you probably are… I sure as hell was. But if you're under 30, maybe you've seen this coming all along. The Friday the 13th franchise is still the king (at least for one day until Saw VI comes out), so we'll list it on top. Here's how it breaks down. (Gross revenue sources from The-Numbers.com.)
Friday the 13th (including Freddy vs. Jason)
Movies in franchise: 12
Total gross: $382,746,073
Average gross per movie: $31,895,506.
Saw (does not include Saw VI)
Movies in franchise: 5
Total gross: $342,495,726.
Average gross per movie: $68,499,145
Halloween
Movies in franchise: 10
Total gross: $307,536,987
Average gross per movie: $30,753,699
A Nightmare on Elm Street (including Freddy vs. Jason)
Movies in franchise: 8
Total gross: $298,584,861

Average gross per movie: $37,323,108
Scream
Movies in franchise: 3
Total gross: $293,548,040
Average gross per movie: $97,849,347
Child's Play
Movies in franchise: 5
Total gross: $123,820,014
Average gross per movie: $24,764,003
How can this be — how can Jigsaw be leaving Freddy in the dust? Well, a lot of it is the aggressive production schedule Lionsgate, the company that makes the Saw movies, has maintained. They've had one ready to go every Halloween since 2004: Halloween is now synonymous not with a movie from the Halloween franchise (which would seem a no-brainer), but with Saw, and seeing the latest installment has become a tradition.
"But Uncle Scottie," you say, "That's the U.S. Surely in the whole world Friday the 13th still reigns supreme!" 'Fraid not. The Saw franchise has pulled in $668 million worldwide, while the Friday the 13th franchise is just under $465 million. Saw's worldwide gross is more than double that of Nightmare on Elm Street and Halloween, and three times the gross of the Child's Play movies.
Move over, Michael: There's something meatier on the horror scene. Like the Saw movies or not, credit where credit is due: Congrats to Lionsgate and everyone behind the Saw franchise. You have taken your rightful place in the halls of horror history.
Hail to the King, baby.

New York Times best-selling author Scott Sigler writes tales of hard-science horror, then gives them away as free audiobooks at www.scottsigler.com. His novel INFECTED was named as Border's #1 mystery, thriller and horror novel for 2008. His next major hardcover horror/thriller ANCESTOR will be out on May 4, 2010.
Don't agree with what Scott says in this blog? Post a note in the comments section below. Include all relevant personal information, such as your address and what times you are not home, so Scott can pay you a surprise visit and show you his world famous "Chicken Scissors."
Read More