Interviews
Q&A – Whip It's Drew Barrymore on Roller Skate Camp and Her Inner 13-Year-Old Boy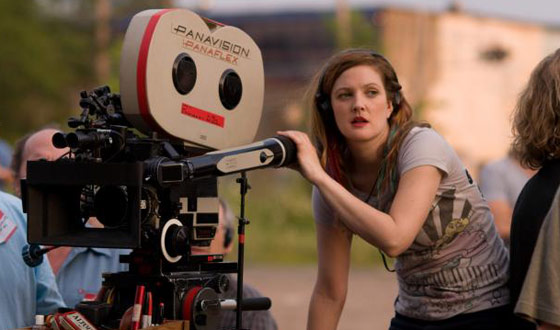 Whip It's Drew Barrymore on Roller Skate Camp and Her Inner 13-Year-Old Boy" width="560″/>

Drew Barrymore is part of a motley crew of actresses (including Ellen Page, Eve, Juliette Lewis, Kristen Wiig and Zoe Bell) who are hell on wheels in Whip It. But this is no bit part. The roller derby movie also marks Barrymore's first time in the director's chair — not that she got to sit down in it very much, as she explains to AMCtv.com.

Q: It's one thing to direct for the first time, it's quite another to direct on skates.
A: It definitely poses a challenge! I had never roller-skated before, so I had to train with the girls. We had a roller skate training camp, because I had learned on Charlie's Angels the value of doing your own stunts. As an audience member, you just believe it more, you enjoy it more. There's nothing worse than a bad cut of a waist-high shot, then the back of a really bad wig, and then back to the actor. You're like, "Wait, did they really think I was fooled by that?" And that's how I got the actors I wanted. I was like, "We're going to train, we're going to do this, this is the tone of film."
There was a point where we talked about doing wire work or how to figure out a jump scene where Ellen would clear the girls by four feet, knock into a wall and go down. Derby's a dangerous sport, so I wanted to take a moment and show that, show how fearless you have to be to play it. But instead of wire work or trickery, we trained for it. But training with the girls meant 19-hour days for me. I had to come in early and prep, then I would train with the girls, and then when they went to dinner, I would do late work, figuring out stunts with our choreographer.
Q: Did you watch a lot of sports films to figure out how you wanted to set this one apart?

A: I did, I watched a lot of movies to prep. Rollerball,
and all that kind of stuff. I like sports movies that are about
teamwork and irreverence and letting personality come through in subtle
moments, like how in Slap Shot, the guy is always looking at
himself in the mirror, and without any dialogue, you're like, "I know
who that guy is." Like how the Bad News Bears are so irreverent, they can't pull it together. Breaking Away was
a big influence for me. There's a lack of tradition of storytelling in
derby, so I decided to create stories in each game, to keep the comedy
and keep it fresh and keep it alive.
Q: The movie is about derby, but derby is also just a backdrop.
A: It's about family and friendships and finding your own tribe, and
all the energy, pain, guilt, and love that goes with that. So I watched
things like Saturday Night Fever, Foxes, too. Those
movies to me had a maturity. John Hughes movies never really had that
bubblegum, smack-you dialogue. He had a real respect for his characters
and they had problems that seemed as important as adult problems were,
and that's how you feel when you're young. To me, this is really an
androgynous coming-of-self story. And since I'm really a 13-year-old
boy at heart, I like the comedy and action of it.
Q: There's another metaphor, with the pageants — which is where Ellen Page's character would be if her mother had her way.
A: Hollywood is a lot like pageants. You're supposed to fit in a box
in a certain way, to fit a certain idea of perfection. I just can't be
put in that box. I don't fit in. I don't think there's anything wrong
with pageants, but I'm more of a derby girl than a pageant girl. And
that's my personal connection to this story. Any project I do, I have
to have a real personal connection with. Like with 50 First Dates,
I produced that because I loved the idea of someone making the effort
to make someone fall in love with you every day. And with Charlie's Angels,
because it's kick-ass girls who are having fun while they're doing it.
And this, I could connect with the idea of having someone accept us for
who we are, versus who they want us to be.
Q: The soundtrack is like a mixtape – and yet, no Devo. Why?
A: I poured a lot of the music I love into this, but to use the song
"Whip It" would have been too on the nose, because it's not about that!
[Laughs] The "whip" is a derby move! That's what you should think when
you think "whip it"!
Read More