Interviews
Q&A – Billy Connolly Glad He Made It Back to the Boondocks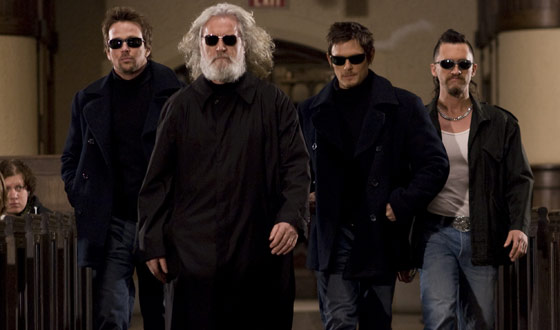 Boondocks" width="560″/>

When The Boondock Saints was first released in 2000, it played for one week in five theaters, died, and went straight to video. Somehow, over the course of ten years, a cult following has turned The Boondock Saints into a success story, and now there's a sequel – The Boondock Saints II: All Saints Day. Original Boondock-er and comedian Billy Connolly revisits the scene of the crime…
Q: You used to joke that you, or your character, always died on film, preventing you from ever doing a sequel. But here you are…
A: Most of the stuff I'm proud of, I died in. In Lemony Snicket, I die. In Mrs. Brown, I die. Even in The Muppets, I die. So for most movies, the only way for me to possibly be in the sequel is to become a ghost and haunt everyone. It's a huge plot so they can stop giving me more money. They all got together and decided killing me off would mean I'd only get the one paycheck. In this one, in Boondock Saints, I was supposed to die originally, and now I'm not. They let me live.
Q: If only the same could be said of the people he encounters…
A: I'm good at doling out death, aren't I? I wouldn't like to
bump into my character, Il Duce, on a windy night, I'll tell you that.
He wrecks vengeance. I think there are a lot of people, especially
since 9/11, who have been looking for vengeance. They're scared. And
they're attracted to vigilantes. Dirty Harry is the original great
vigilante — he's on the side of good, but you can tell he doesn't mind
doing it at all. A genuinely good man would regret having to kill
someone. But my character, just does it for the pure joy of it.
Q: Did you ever think there would be a sequel?
A: I always had great faith in the first one. I was on the
record saying, "I don't care, it will find a way," and lo and behold,
it did, thanks to the fans who kept it alive by buying the DVD. I've
never known anything remotely like that, where the DVD is more
successful than the movie. I think the only success stories like that
are in the field of pornography. Maybe I'm wrong.
Q: Do you think Boondock Saints is a comedy? Or is it meant to be taken seriously?
A: Well, I don't actually like that many comedies, although I was rolling around for The Hangover.
And I don't like doing comedies all that much. The trouble is, you have
to change the crew for every take, because once they start laughing —
well, then it's not funny anymore. You take the funny out of it by
doing it over and over. This one, this sequel is a bit lighter. It
doesn't take itself as seriously as the first one. It's hard to be
light when people are dying. But there are a few laugh-out-loud
moments.
Q: If you don't like doing comedies, what about being paired against another comedian – such as Jim Carrey in Lemony Snicket or Jack Black in Gulliver's Travels?
A: There's a brotherhood among comedians, and we're drawn to
each other. We try to make each other laugh — not at the other's
expense, but we just want to entertain the other. Jack, what a
delightful man. He played ukulele on set, and then I said, "I'll bring
mine." Then Emily Blunt got one, learned a few chords and she's
dedicated to it now. We did a lot of jolly songs on the ukulele
together. It was just dandy.
Q: You're king of the Lilliputians in Gulliver's Travels. And then you're going to be yet another king in Pixar's The Bear and the Bow…
A: King Fergus, a big fat guy with one leg whose one joy is to
hunt bears, and by magic, his wife becomes a bear. You can't even
imagine what happens next. [Laughs]. And Il Duce in Boondock Saints is
a kind of a king, a king of his own world, a dictator who rules with
ruthless authority. I like being the king! It beats being a serf. My
whole lineage — we traced it back to the 18th century — we were all
peasants. I think the peasants have a sense of humor that can only
exist because they know what loss is. And if you're well off, you don't
think of that emotional spectrum that comedy comes from tragedy. Unless
you're the king, because then you're the boss.
Read More