Putting Together a SciFi Military Squad? You Can Count on Kurt Russell and Dennis Quaid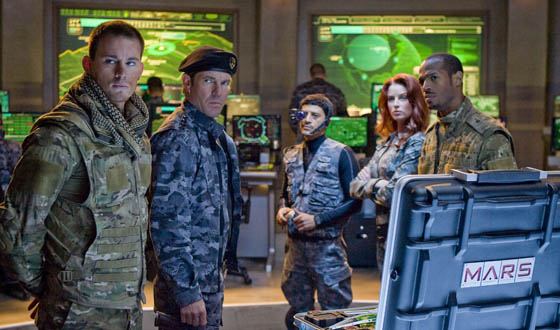 Quelling a deadly space-bug riot or facing down an army of droid mechas is not a job for your average thespian. Actors for the most part are a cowardly, squishy lot. But there are a few, proud exceptions — men that go above and beyond the call of duty on the movie screen, time and again returning to serve our country, the world, and sometimes even the whole galaxy. These are the Soldiers of SciFi, and let's show them a little respect, maggot!
Jean-Claude Van Damme
Rank: Seargent


The debate over genetically engineered soldiers has divided our troops, and the public. But one man has shown that those half-lives cause more trouble than they're worth, and that man is Van Damme. Through three Universal Soldier movies, Van Damme's resurrected Vietnam soldier Luc Devereaux has been a thorn in the side of the U.S. Army. Create a program to resurrect troops? Devereaux will take it down. Evil computer tries to destroy the U.S. government? Devereaux can't help but get involved. At least in this year's Universal Soldier 3: A New Beginning, he teams up with our boys to stop an evil nuclear cloud. Oh, and the less said about Van Damme's army leader in Street Fighter (1994), the better.
Arnold Schwarzenegger
Rank: Lieutenant


The T-800 is the most ruthless killing machine we've ever seen. And though we don't have to like them, we do have to respect their prowess. Schwarzenegger has portrayed the T-800 in four Terminator movies (well, three plus a computer generated head). But it's not for his misdeeds that we honor the Governator today. In Commando (1985), John Matrix alone stood against an army of evil. In Predator (1987), he was the only man to survive an alien hunter. Time and again, Schwarzenegger has served this country, with only a moderate amount of collateral damage. OK, a significant amount of collateral damage. So what, punk?
Michael Biehn
Rank: Captain


Never quite the leader, but always a great second in command, Biehn kicked off his career as Kyle Reese — second to leader of the resistance John Connor in The Terminator (1984). Though he had to sacrifice himself to save his own baby (who was also his best friend), Biehn did go on to serve a long military career in other scifi fare: He fought the alien menace in Aliens (1986) as Cpl. Dwayne Hicks, who holds the distinction of being the only marine to actually, ya know, survive (at least until Alien 3). Then he was promoted to the rank of Lieutenant in The Abyss (1989) — a leading role that may have proved premature, as he kind of lost his mind and hasn't been seen in scifi since.
Kurt Russell
Rank: Colonel


Russell has become one of the most valuable assets in our cinematic army. His role as the bank-robbing merc Snake Plissken in Escape From New York (1981) and Escape From L.A. (1996) gave him the hardcore training he needed to take things to the big leagues. And make it to the big leagues he did as Col. Jonathan 'Jack' O'Neil in Stargate (1994), who led a whole platoon of soldiers to battle an androgynous alien menace from Earth's past. Sadly, Russell has since fallen out with the army, going on the run against his genetically engineered replacements in Soldier (1998). But there's a cushy desk job waiting for him, if he ever wants back in.
Dennis Quaid
Rank: General


No soldier has served the military so faithfully or for so long as Dennis Quaid. Having cut his teeth as a military man in the non-scifi Stripes (1981), Quaid crash-landed on a planet in Enemy Mine (1985), where he befriended an alien combatant and brought them both to safety. His tour off-planet earned Quaid a promotion to Lieutenant, during which time he journeyed to the center of Martin Short in Innerspace (1987). Finally, after nearly thirty years, Quaid was promoted to General, portraying General Hawk, the leader of a team so elite he doesn't even need to tell you who they are in G.I. Joe: The Rise of Cobra (2009). We salute you, General Quaid. Hoo-ah!

Read More