Movie History – Six Significant Movie Modernizations: Original vs. Remake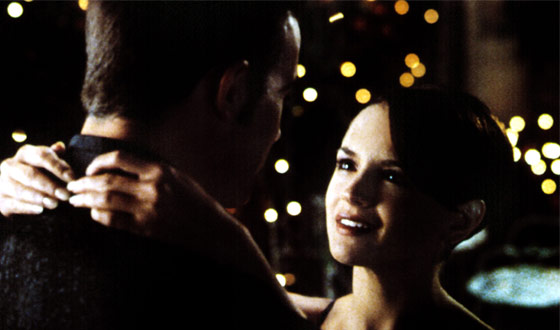 Although rabid fans usually object to updating masterpieces like Invasion of the Body Snatchers (1956), Hitchcock's Psycho (1960), The Pink Panther (1963), or Planet of the Apes (1968), Hollywood studios rarely listen. In fact, they tend to prefer self-cannibalizing their movies or reprocessing ready-made "content" from earlier hits rather than taking risks. Let's compare the following six sets of movie modernizations, and see how they fared.
1. A Guy Named Joe (1943) vs. Always (1989)

The war-time fantasy A Guy Named Joe (1943) tells the tale of an Air Force commander (Spencer Tracy) who gets shot down during a bombing run in Germany — and returns as a guardian angel out to help novice pilots. He grows conflicted when one of the pilots (Van Johnson) falls in love with his girl (Irene Dunne). Steven Spielberg remade his favorite classic film as Always (1989), a weaker update that changes the tale from bomber pilots in WWII to daredevil forest-fire-fighting pilots in the Pacific Northwest in the late '80s. Without that crucial war-time setting as backdrop, the romantic triangle between Richard Dreyfuss, Holly Hunter, and Brad Johnson is nowhere near as urgent.
2. Death Takes a Holiday (1934) vs. Meet Joe Black (1998)
Disc Two of the "Ultimate DVD Edition" of the over-indulgent, big-budget Meet Joe Black (1998) is a 79-minute black-and-white work Death Takes a Holiday (1934). Meet Joe Black is a pseudo-redo of the original fantasy drama, about a personified "Death" (Fredric March) who takes bodily form to learn what it's like to be human. In the lavish modern version, Joe Black/"Death" is played by sexy star Brad Pitt, opposite Anthony Hopkins as 65-year-old telecommunications mogul, and Claire Forlani as Hopkins' pretty daughter. For all the extra minutes in the remake, one would think it would have made more profound statements; but no. The most important lessons Black learns are about the splendor of two earthly pleasures: Peanut butter and prolonged love-making.
3. The Shop Around the Corner (1940) vs. You've Got Mail (1998)
Both
of these movies tell the story of a relationship created through
anonymous letter-writing, but some have argued that the remake lacks
the wit and charm of the original. The earlier Ernst Lubitsch movie is
set in a department store in pre-war Budapest and involves
handwritten notes, while Nora Ephron's updated script is set in late
'90s New York, and involves the use of AOL as an Internet provider. In
the 1940 version, store clerk Alfred Kralik (James Stewart) unwittingly
falls in love with the newly-hired co-worker/salesgirl Klara Novak
(Margaret Sullavan) whom he loathes at work. In the 1998 movie, indie
bookstore owner Kathleen Kelly (Meg Ryan) unwittingly befriends
cyber-friend Joe Fox (Tom Hanks), whose book chain threatens
to put her tiny store out of business. Predictably, both romances are
resolved with the possibility of marriages to come.
4. Pygmalion (1938, UK) and My Fair Lady (1964) vs. She's All That (1999)
The retelling of the Pygmalion myth introduced by George Bernard Shaw
has been the basis for many movies, including the British production of
Pygmalion (1938), the movie musical My Fair Lady (1964) and even
Hitchcock's Vertigo (1958) and Pretty Woman (1990). The original tale
was about the transformation of a spunky cockney flower-girl (Wendy
Hiller and Audrey Hepburn) into a lady by her egotistical phonetics
professor (Leslie Howard and Rex Harrison). Meanwhile, in the formulaic
She's All That (1999), popular, recently-dumped high school senior Zack
(Freddie Prinze, Jr.) accepts a bet that he can take any girl — such as nerdy art student Laney (Rachael Leigh Cook) —
and turn her into a prom queen. After a quick makeover transformation
scene for the (already attractive) Laney, which mostly entails the
donning of a sexy red dress, the clichéd movie marches predictably to
its inevitable ending.
5. Rear Window (1954) vs. Disturbia (2007)
Disturbia has been accused of being a blatant rip-off of Alfred
Hitchcock's classic murder mystery Rear Window, which explores the
consequences of spying on neighbors. Is this movie an homage or a case
of plagiarism? In the original work, voyeuristic city-dweller (James
Stewart) uses his telephoto lens and binoculars as a means to view his
neighbors and solve a mystery. In the newer, dumbed-down
movie, a troubled teenage suburbanite (Shia LaBeouf) is confined to
house-arrest for three months and he uses his time, stripped of his
YouTube Generation techno-gadgetry, to ogle philandering neighbors, a
nubile beauty (Sarah Roemer) and a hulking gardener/suspected serial
killer Mr. Turner (David Morse). While the PG-13 movie lacks the
black humor of the original and fails to implicate its audience as
voyeurs as Hitchcock so masterfully did, it does avoid a surfeit of
blood and gore as it comes to its suspenseful conclusion.
6. An Affair to Remember (1957) vs. Sleepless in Seattle (1993) and Love Affair (1994)
Although An Affair to Remember (1957) was itself a remake of the
director's own Love Affair (1939) with Irene Dunne and Charles Boyer,
the tearjerker was remade again two more times: As Nora Ephron's
romantic comedy Sleepless in Seattle (1993) starring Tom Hanks and Meg
Ryan, and as the glossy Love Affair (1994), with aging real-life couple
Warren Beatty and Annette Bening. In each iteration, the basic plot follows the 1939 original — a couple
meets (on a "voyage"), has a love affair, and vows to meet again some
time later, although the planned meeting is inevitably doomed to fail.
In the 1957 movie, a playboy and a painter plan to meet again six
months after an ocean cruise, but a crippling car accident delays their coming together. In the 1994 rehash, an ex-NFL quarterback meets a
singer on an aborted flight to Sydney, which makes an emergency landing
that allows them to spend several days together. Alas, they too fail to
rendez-vous as planned. The 1993 movie is actually the only one in
which the long-awaited reunion between two thwarted lovers actually
comes to pass — atop the Empire State Building.
Tim Dirks is Senior Editor and Film Historian at AMC, an educator and film buff who created the landmark, award-winning Filmsite.org in the mid-'90s and continues to write original reviews and features spanning all the years of cinematic history.
Read More