Now or Then – Where the Wild Things Are or Monsters, Inc.?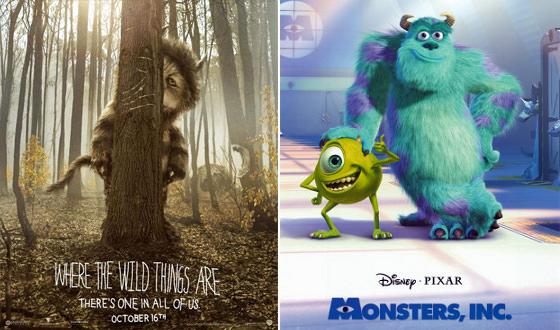 Where the Wild Things Are or Monsters, Inc.?" width="560″/>
Now: Where the Wild Things Are (2009)Then: Monsters, Inc. (2001)
Spike Jonze's adaptation of Maurice Sendak's classic Where the Wild Things Are gives us a young child who drifts into a world of monsters and learns to love the beasts he encounters. But for all its peculiarities, the story isn't new: It calls to mind Pixar's Monsters, Inc., in which a young human child accidentally enters a world of monsters, and learns to…well, you get the picture. The similarities may not be coincidental: One of the first things Monsters, Inc. executive producer John Lasseter did after joining Disney in the '80s was to direct an animation test of Where the Wild Things Are. Coincidence? Read on.
A World Populated By Monsters

Wild Things: The sole inhabitants of this distant island appear to be large, furry creatures who like to throw each other around, smash their own nests, and cause all sorts of havoc.

Monsters, Inc: Monstropolis is a city filled with monsters who have been hired to terrify human children. They spend most of their time perfecting their scare tactics.
A Human Castaway

Wild Things: Max (Max Records) is a nine-year-old who runs away from home and steps into a sailboat that takes him to the land of the wild things.

Monsters, Inc: Boo (Mary Gibbs) is a young human girl who, thinking the monster sent to scare her is a kitty, accidentally steps through a teleportation door into Monstropolis.
Monsters Scared of Humans!
Wild Things: The Wild Things mistake Max for their king, and then proceed to do everything he tells them. Needless to say, they eventually discover that he is not, in fact, their king.

Monsters, Inc: The denizens of Monstropolis have been told — dishonestly — that human children are toxic. Needless to say, they discover eventually that humans are not, in fact, toxic.
Monster Infighting
Wild Things: The monsters of this island appear to be a somewhat neurotic bunch — one wants to run away from home; one gets too angry and is chastised by his mates; others bicker non-stop.
Monsters, Inc: Along with the playful back-and-forth between monster buddies Sulley (John Goodman) and Mike (Billy Crystal), there are more sinister goings-on in Monstropolis, including the development of a machine to harvest the terror of kidnapped children.
A Tearful Adieu…
Wild Things: Having realized he misses his human family and his human life, Max bids an emotional farewell to his Wild Thing buddies as he sets sail for home.

Monsters, Inc: After returning the adorable Boo to her human life, Sulley watches in anguish as her door is shredded to make sure he can never enter her world again.
Don't forget to vote in the Now or Then poll or leave a comment below!
Read More