Novelist Eoin Colfer on Resurrecting Hitchhiker's Guide to the Galaxy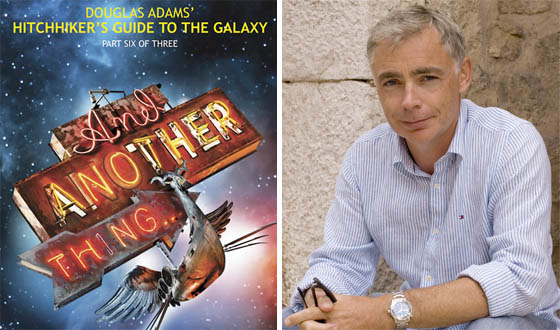 Hitchhiker's Guide to the Galaxy" width="560″/>

On the 30th anniversary of the first publication of Douglas Adams' Hitchhiker's Guide to the Galaxy comes And Another Thing…, the sixth book of the series penned by Artemis Fowl novelist Eoin (pronounced Owen) Colfer. Colfer discusses his reluctance to take on the project and his hopes for the future of Hitchhiker's.
Q: What made you decide you wanted to pick up where Douglas Adams left off?
A: The project was not something I went looking for. Douglas Adams' agent presented it to me as a way to bring the Hitchhiker back to the forefront of scifi, so that seemed like a good, honest project to be a part of. Also I was insanely flattered to be asked.
Q: Adams has said he was disappointed with how bleak the fifth book was. How focused were you on making this more upbeat?
A: My books tend to naturally veer away from the bleak, which is probably why I feel a little bleak most of the time myself. Maybe I should get rid of a little of it through writing in the future.
Q: Did you have to change your style of writing at all to mimic Adams, or are you writing about these familiar characters in your own voice?
A: I use my own voice mostly, but I think that unconsciously I tried to make the prose somewhat reminiscent of Douglas, but not in a slavish way.
Q: What was the biggest challenge in picking up this franchise?
A: I found the biggest challenge was walking the fine line between new and familiar. I wanted the older readers to be reminded of the Hitchhiker universe without alienating the new readers with constant references.
Q: Your Artemis Fowl books are always written in a half-serious tone, and for that reason are often called children's books. Do you see any similarities to the Hitchhiker series?
A: Absolutely, except the Hitchhiker books are even less serious in tone than Artemis. All bets are off when writing a book like this. You can take the story in any direction.
Q: You grew up a fan of Hitchhiker's — what was your favorite thing to write?
A: I have always loved Zaphod Beeblebrox, maverick two headed president of the galaxy and of course famous lady's man. Also, my favorite Hitchhiker book is Restaurant at the End of the Universe — and I did try to mirror its zany mood.
Q: What are some of the key things you knew you had to include in a new Hitchhiker book?
A: I knew Zaphod had to come back, and I felt I had to deal with Fenchurch's disappearance. Also I felt I had to bring some Irishness to the series.
Q: Do you think you might write more Hitchhiker stories in the future?
A: I would like to see a different high profile writer do one every year.
Read More