Natural Born Gunslinger – Tommy Lee Jones' Trips to the Wild West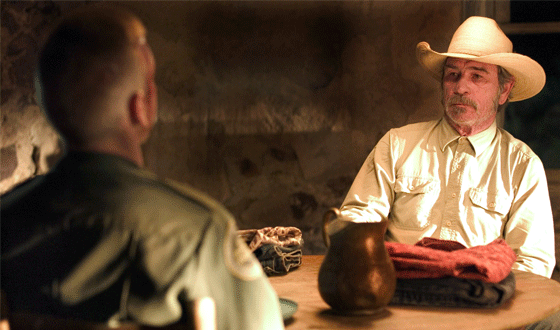 While it took decades for John Wayne to make elegiac movies about reaching the end of the trail, Tommy Lee Jones' cowpokes are grizzled old dogs from the start. A Texas native, Jones is often cast as the type of maverick common to the Lone Star State — whether it's in The Fugitive or Space Cowboys. Want more credentials? He owns his own ranch! A cowboy through and through.
No Country for Old Men (2007)
Now, is this one really a Western? It certainly feels like one. Jones plays Sheriff Ed Bell, an old hat who finds himself completely
out of his element when faced with a new, vicious breed of killers. Tones of The Wild Bunch abound, and as far as mythic Western landscapes go, No Country for Old Men features some of the best since The Assassination of Jesse James. Fun side note: In a show of Texas pride, Jones successfully lobbied the Coen brothers to have some of the movie's scenes filmed in West Texas rather than the less expensive environs of New Mexico.
The Three Burials of Melquiades Estrada (2005)
Though it borrows heavily from Sam Peckinpah's Bring Me the Head of Alfredo Garcia,
this gruesome Western is infinitely more optimistic
about the human condition than that flick. Warren Oates' drunkard in the original carried around a festering severed head to collect reward money; Jones' motivation for carrying a decomposing body to Mexico is more enlightened: To give a proper burial to a friend, and punish his killer. It's a surprisingly potent ride.
The Missing (2003)
The Searchers is one of the most influential Westerns ever, and this Ron Howard movie offers another take on the legend. Here, Jones a man who's lived among the Apaches for years and leaps into action when a group of them kidnap his granddaughter. Though the movie drones on a bit too long — as he goes after the girl, and goes after her some more — Jones is a joy to watch in his hangdog role.
The Good Old Boys (1995)
This TV movie stars
Jones as a rugged American cowboy who, in a modernizing world, stoops
to work at his brother's ranch in San Angelo, Texas. But can he really tame his roaming ways? Though not as well-known as the rest of his work, Jones is in fine form in this character-driven fable. It's also the actor's directorial debut, and he surrounds himself with a slew of great actors: Frances McDormand, Matt Damon, Sam Shepard,
Sissy Spacek, and Mr. Quaker Oats himself, Wilford Brimley.
Lonesome Dove (1989)
Jones is known as a cantankerous and eccentric actor (check out his hairstyle in Natural Born Killers for evidence), and this classic miniseries plays to both strengths as he inhabits the role of ex-Texas Ranger Woodrow F. McCall with gritty, grunting aplomb. It's a restrained, nuanced performance, his chemistry with trail buddy Robert Duvall is perfect, and it's no surprise Jones was nominated for an Emmy for his fine work on the flick.
Stranger on My Land (1988)
If there's one thing
you don't do in the Western, it's take an ex-vet's ranch. (Haven't these guys watched Rudolph Maté's The Violent
Men?) Jones here plays a disenchanted veteran who
discovers that his country still wants a piece of him — his
ranch, to be exact, which the Air Force wants to turn into a base. In the
tradition of movies like First Blood and Rolling Thunder (which he also co-starred in), Jones brings the war home and makes life difficult for the powers that be.

Read More