Uncategorized
Flashback Five – This Is It Isn't the First Movie to Bring a Star Back From the Dead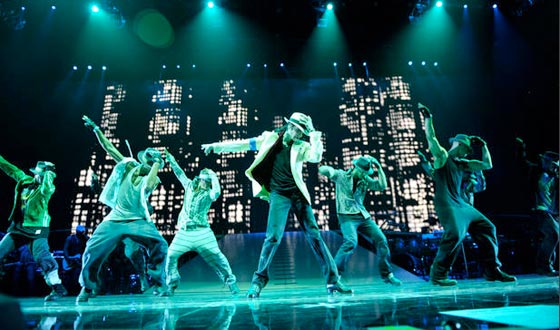 Don't worry, Michael Jackson fans, you still have one last time to say goodbye to the King of Pop, as High School Musical director (and frequent Jackson collaborator) Kenny Ortega has edited together rehearsal, interview, and concert footage of Jack-O into the new documentary/concert film "This is It." This isn't the first time Hollywood has jumped backwards through flaming hoops to make a buck off a deceased star, it's just the most recent. How have other moviemakers dealt with the problem? Glad you asked.
1. The Imaginarium of Dr. Parnassus (2009)
Heath Ledger was halfway through filming Terry Gilliam's latest weirdo epic when he unexpectedly passed away. The ever-resourceful Gilliam decided to use a pre-existing plot point: Ledger's character travels through dimensions, and can change his appearance! So when the movie is released later this year, Johnny Depp, Colin Farrell, and Jude Law will all be playing Ledger in a tribute to their friend. Fingers crossed for them.
2. Superman Returns (2006)
How do you have Marlon Brando reprise his role as Superman's father two years after his death, and more than twenty years after he last appeared in a Superman movie? Easy: You use footage shot for Superman II that was never used. When director Bryan Singer was filming his, er, tribute to the Donner movies, he negotiated with the Brando estate, and history was made! Or it would have been, if anyone had actually seen Superman Returns.
3. The Matrix Revolutions (2003)
Gloria
Foster has a small but key role in the first two Matrix movies as The
Oracle, the being who sends Keanu Reeves' Neo on his path. Despite
filming the two Matrix sequels (Reloaded and Revolutions)
back to back, the Wachowski brothers were dealt a unique challenge when
Foster passed away during production on the third. The Wachowskis
hastily rewrote a scene to explain that The Oracle (now played by Mary
Alice) had to change her face to escape capture by evil agents. It
didn't make much sense, but neither did anything else in the sequels.
4. Gladiator (2000)
Oliver Reed was halfway through filming his key role as a buyer and
seller of gladiators in this flick when he suffered a fatal heart
attack. Rather than refilm his scenes, the studio paid for expensive
digital face-mapping, using previously filmed footage and digitally
looping it onto a body double. The switch is noticeable, though it did
help pioneer the technology for later use — and, more importantly, let
us see one last performance from a veteran actor.
5. The Crow (1994)
Brandon Lee was only 28 when a faultily-loaded prop gun
killed him on the set of Alex Proyas' gothic masterpiece. With the
majority of Lee's performance already committed to film, and the permission of the Lee family, Proyas
carried on without him. The director used two stunt doubles who were friends of
Lee's as stand-ins, and some digital face-mapping to finish things off.
The effect was seamless, and the movie a critical and commercial hit.
Honorable Mentions:
1. Harry Potter and the Chamber of Secrets (2002) –
Richard Harris passed away shortly before the film was released, and
replaced by Michael Gambon in the next movie. Though he was sorely
missed, the movie was unaffected; this is Harry Potter we're talking
about, after all.
2. Brainstorm (1983) –
Natalie Wood drowned over a break from shooting this scifi movie,
sending it into limbo for several years, at which point the director
decided to finish the movie using body doubles and sound-alikes. The
result was surprisingly well received by critics.
3. Trail of the Pink Panther (1982) –
Longtime Peter Sellers collaborator Blake Edwards made this entire
sequel after Sellers death, using outtakes and deleted footage from
previous Panther films to create his entire "performance." Neither the
Sellers family, and critics, were pleased.
4. Game of Death (1978) –
Before Brandon, there was his father Bruce, who also died young, before
completing his last kung-fu epic. The director used look-alikes and
archival footage to complete the film, which only included fifteen
minutes of Lee footage. Those are the only good fifteen minutes in this
movie.
5. Plan 9 From Outer Space (1959) –
Bela Lugosi was already dead when Ed Wood decided to use silent footage
of the actor interspersed with body doubles. And that is the only thing
bad about Plan 9 From Outer Space.
Read More