Mary Robinette Kowal – Ten Costumes to Make Your Halloween Fantastic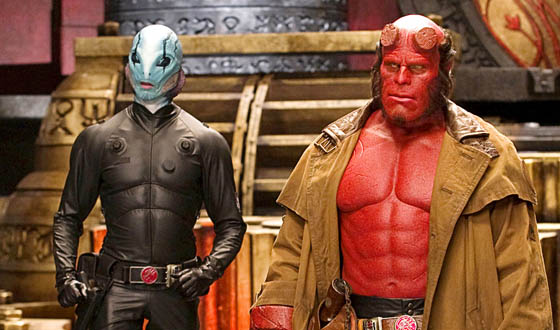 Around this time of year, I start to get lots of friends asking me what they should be for Halloween. It's one of the perils of being a professional puppeteer, I suppose. Fortunately, fantasy has lots of ready inspiration for costumes, and it's perfect for people who are scrambling at the last minute. You know who you are…

Pirate Stooge from Pirates of the Caribbean
Dead-simple. Open your closet, grab a striped shirt and a pair of dark pants. Tuck them into your boots and tie a bandana around your head. If you want to be ambitious, buy a cheap Halloween skeleton and slip one of the arms up your sleeve for when the moonlight hits. Don't forget the ration of rum.
Bonus Accessories: Gold hoop earring, sword
Candy: Chocolate gold coins

Coraline from Coraline
You could wear just about any teen friendly clothes for this one, but add striped tights, galoshes and a yellow raincoat and you'll be stepping into Coraline's shoes. Her messenger bag makes the perfect satchel for holding treats. Add a cheap blue wig, or make one from yarn or paper and you're good to go.
Bonus Accessories: Key, black cat
Candy: Salt water taffy

Harry Potter from Harry Potter
The nice thing about wizards these days is that they totally wear street clothes. All you need to masquerade as Harry are the round glasses and the lightning bolt scar, the latter of which is easy to mimic with a lip-liner pencil and a steady hand. For a wand, grab an attractive twig from the ground and buff it with furniture wax. Wrap a little leather at one end and Accio Treatius!
Bonus Accessories: Scarf, white owl
Candy: Bertie Bott's Every Flavor Jelly Beans

Victoria from Twilight
This movie gives us several options, but the vampire Victoria has a more dangerous fashion sense than the other characters. Grab your black jeans and a black tank top for this one. You can make her arm-warmer sleeves by chopping the legs off a pair of black tights and removing the toes. For her shawl, pick up a cheap sheepskin rug from Ikea or pin together some dust mops as a vegan alternative.
Bonus Accessories: Vampire teeth, peacock keychain
Candy: Blood Candy

The Man in Black from The Princess Bride
The Dread Pirate Roberts offers us the easiest costume in the world: Dress all in black. Leave the collar of your shirt open to reveal your manly chest. Pull on some black gloves and boots. Tie a piece of black cloth over your head (after cutting eye holes in it, of course). Top it off by grabbing an eyebrow pencil to draw on the appropriately-named pencil mustache.
Bonus Accessories: Sword, small vial of iocane powder
Candy: Chocolate-covered chestnuts
Lamia from Stardust
Lamia (Michelle Pfeiffer) is at once scary and glamorous. Pick up a used prom dress at your local thrift shop — preferably something in black — and glam your hair out. Add some heavy black eyeliner to make bags under your eyes and draw some age lines on with an eyebrow pencil. If you want to go all out, you can let some white glue dry on the back of your hands and it will look like burned, peeling skin.
Bonus Accessories: A silver star-catching cord, blackened knife
Candy: Star chocolates

Alfred Borden from The Prestige
While as stylish as his rival in The Prestige, Alfred Borden (Christian Bale) has a scary edge. You'll need black trousers, white shirt, a gray vest and a cravat. The frock coat will be the tricky part, but they turn up at thrift stores or tuxedo rentals. The real trick here is the missing finger: Get a pair of black gloves and tuck your ring and pinkie finger into your palm when you pull the gloves on.
Bonus Accessories: Coin, rubber ball
Candy: Butterscotch

Mallory Grace from The Spiderwick Chronicles
One of the three siblings in this movie, Mallory is the most kick-ass. Pull on a pair of jeans, a cute sweater and some good boots. You can make the magic stone with a hole in it out of plumbers epoxy, a little bit of leather and a broken pair of glasses.
Bonus Accessories: Epee, jar of tomato juice
Candy: Honeycomb

Abe Sapien from Hellboy
Admittedly, this costume will take a little more time and craftiness, but I trust you. Got a wetsuit? Great. Pick up a bald cap and some blue and green makeup to create Abe Sapien's head. Add a pair of goggles. The breathing collar you can fake with a neck pillow and some small plastic bottles. Easy, right?
Bonus Accessories: Gun (a fake one, please), book of philosophy
Candy: Swedish fish

Zula from Conan the Destroyer
This is not a costume for the faint-hearted… or the easily chilled. To be Grace Jones's character, you just need a black leather bikini. Then tie a few other bands of leather around your arms, thighs and calves, tease and pin your hair into her fearsome 'do and prepare to be awesome.
Bonus Accessories: Spear, attitude
Candy: You think she eats?
So there's my advice. Your task: Put one of these costumes (or, another fantasy costume of your choosing) into action, then let me know how it turns out in the comments.
Mary Robinette Kowal is the winner of the 2008 John W. Campbell Award for Best New Writer and a professional puppeteer. Her first novel, Shades of Milk and Honey, is being published by Tor in 2010.
Read More