Maitland McDonagh – The Ten Movies With the Sexiest Witches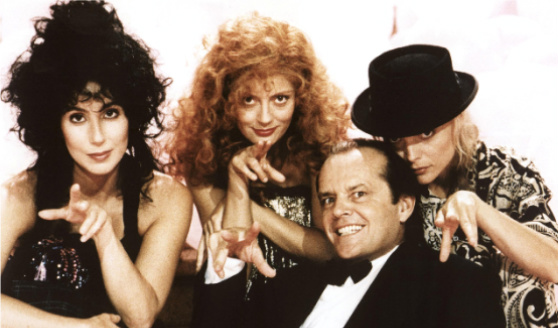 Think about it: If witches were all warty hags, how much damage could they do? When it comes to corrupting the weak and luring the suggestible on the path of righteousness, there's nothing like luscious lips and insinuating hips. Which is why so many witchy women are hotter than hell; that and proximity to the lake of fire or something. So without further ado, let's have a look at the most alluring of Lucifer's luscious lady friends.
Bellatrix Lestrange (Helena Bonham Carter), Harry Potter Series (2007-2010)
Yes, Bellatrix is mad, bad and dangerous to know, but she's working that belle dame sans merci vibe for all it's worth and she's the closest thing the Harry Potter series has to a full-blooded fatal femme.
Mary, Helen, Jill and Irene (Carlee Baker, Eryn Joslyn, Eve Mauro and Robin Sydney), Wicked Lake (2008)
Inbred, white-trash sex fiends besiege the isolated lakeside cabin rented by a quartet of smokin' hot Wiccans in slasher-expert Alexander Rockoff's (Going to Pieces) self-conscious pastiche. Suffice it to say that the ladies' faith in the power of sex magic is not misplaced.
Gillian and Sally Owens (Nicole Kidman and Sandra Bullock), Practical Magic (1998)
You probably don't know "Sister, Sister," the old song that goes "Lord help the mister who comes between me and my sister," but trust me: Those are words to the wise. It goes double when the sisters are witches, and triple when the poor little witch girls are shadowed by a curse that kills any man who truly loves them. But if it's just a little fun you're after, well, those Owens gals are mighty cute.
Sarah, Nancy, Bonnie and Rochelle (Robin Tunney, Fairuza Balk, Neve Campbell and Rachel True), The Craft (1996)
OK, they're Catholic schoolgirls and they're witches: Does it get any hotter? Granted, they're not so sizzling at the start — they're actually the school outcasts. But as soon as they start casting spells and channeling their inner mean girls, dam
Alexandra Medford, Sukie Ridgemont and Jane Spofford (Cher, Michelle Pfeiffer and Susan Sarandon), The Witches of Eastwick (1987)
Forget all that suburban satire crap and focus on these hell-bound ladies: Apparently the Devil likes variety in his scarlet women, hence the blond, the redhead and the raven-tressed brunette. Why, you may ask, would such stunners consign their bodies and souls to a portly, balding Beelzebub like Jack Nicholson. Let's just say Wayne/Jayne County wrote a song that sums it all up, but we can't quote it here.
Christine Halslag (Renee Soutendijk), The Fourth Man (1983)
Before Dutch writer-director Paul Verhoeven went Hollywood, he made movies like this trippy tale of an alcoholic, bisexual novelist (Jeroen Krabbe, of Ocean's Twelve and Transporter 3) bewitched by a provincial beauty (Soutendijk). She gets the guy who's after her hunky boyfriend. Girlfriend has some serious mojo working.
Baba Yaga (Carroll Baker), Baba Yaga (1973)
Erotic Eurotrash doesn't come much better than this pop-art bonbon in which adult-cartoonist Guido Crepax's Valentina (Isabelle De Funes), a swinging photographer with a sleek Louise Brooks bob, crosses paths with a stunning witch played by American actress Carroll Baker (Baby Doll).
Katia Vajda/Princess Asa (Barbara Steele), Black Sunday (1960)
Don't get bogged down in the story — it's pretty standard-issue stuff about a woman possessed by a vengeful ancestor who was burned as a witch. Just lose yourself in Steele's inky eyes; if she's not the most hauntingly alluring horror actress ever, I don't know who is.
Gillian Holroyd (Kim Novak), Bell, Book and Candle (1958)
The exception to the "bad is sexy and evil is sexier" rule, Novak's Gillian was more hippie-dippy, Greenwich Village-dwelling free spirit than wicked witch. Except that she actually is a witch and casts a love spell on James Stewart to spite his boring human fiancee. As though someone with Novak's curves needs enchantments to bewitch a red-blooded man!
Jennifer (Veronica Lake), I Married a Witch (1942)
Can 20th-century fox Lake truly love the descendent (Frederic March) of Puritans who burned her at the stake 300 years ago? Let's just say that when the platinum blonde turns on the red light, you don't need a match to start a fire.

Read More