Ken Jeong and John Cho Are MVPs in the Next Generation of Asian-American Stars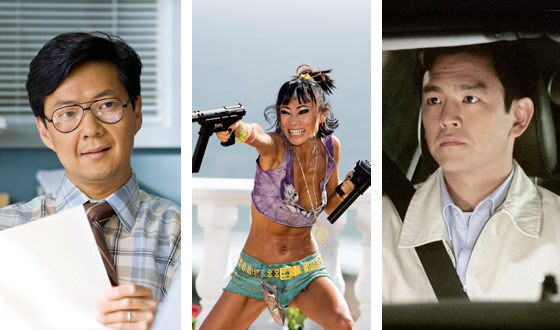 If you went to the movies in 2009, you couldn't stretch a leg without
kicking Ken Jeong. He's the Korean-American actor who's played a crime
lord (The Hangover), a surly gynecologist (Knocked Up), a couples counselor (Couples Retreat)… you get the drift. And he's not the only one: Asian-Americans
may still be underrepresented on the big screen, but there's a
small army of heavy hitters rising up through the ranks alongside him. Who are they? Glad you asked…


Aaron Yoo
The 30-year-old actor appears in four movies this year alone, the latest being Friday the 13th, in which he graciously allows
Jason to smash him into a pulp. Yoo also carried a drunk Ari Graynor
around in 2008's Nick and
Nora's Infinite Playlist, and played a suburban sicko in Disturbia (2007). Other actors looking to emulate his success can start with his hipster haircut, possibly accomplished with a pair of kitchen shears.


Bai Ling
You're probably already familiar with Ling's extreme cat eyes… and her less subtle fashion choices. The actress moved to the
States from China in the '90s, and has been landing small roles in
solid movies (Nixon, Lords of Dogtown) ever since. She may be divisive, but she's got a string of upcoming movies on her plate, including the horror flick The Gauntlet, which looks to be her bloodiest gorefest to date.

Jamie Chung
Korean-American beauty Chung's star is on the rise. She's scored roles on shows like C.S.I., and even won the Female Stars of Tomorrow Award
at this year's ShoWest industry tradeshow alongside her cheeky Sorority Row castmembers. Next she'll star alongside Shannen Doherty and Dylan McDermott
in Burning Palms, a satire about Los Angeles. Not bad for a girl who kicked off her career on The Real World!


John Cho
Cho's been starring in the Harold and
Kumar movies since 2004, and had small roles in big hits of old like
American Beauty and the American Pie series. But this year he
proved there's more to his talent than stoner humor as he filled George Takei's considerable shoes, portraying Lt. Hikaru
Sulu in Star Trek. Look for Cho in Caller ID in 2010… and perhaps on the
Trekkie convention circuit as well.


Justin Chon
This Californian has acting in his blood: His father
was a movie star in Korea before coming to America. Chon, 29, began his
acting career on shows like The O.C., before breaking out in the
immigration flick Crossing Over and landing a part in a little movie called Twilight — in which he plays a
cute guy who gets good grades and hangs out with Bella Swan. Which means: He's not going anywhere anytime soon.


Ken Jeong
With
roles in The Hangover, Knocked Up, and this month's Couples Retreat,
40-year-old Jeong has shown the range of his comedy this year. In The Hangover, he bosses the cool kids, speaks in
falsetto and gets naked as ruthless Asian crime lord Mr. Chow.
Regarding his (100 percent gratuitous) nude scene in that role,
Jeong commented: "I think the country is ready for tiny Asians to
expose themselves." Bring it on.



Moon Bloodgood
She's in regular rotation on TV, but Bloodgood
finally made her big mark in the cinema with this year's Terminator
Salvation, as resistance fighter and love interest Blair
Williams. The 34-year-old model-turned-actress (and a member of the Maxim Hot 100) is
a Dutch-Korean stunner who started out as a Lakers girl. Look for Moon in Bedrooms, out later this year.

Noureen DeWulf
This rising star of Indian descent also got her start on TV, finally getting a chance to work with big movie
stars this year. In Ghosts of Girlfriends Past, she played opposite
Matthew McConaughey as his personal assistant ("the most consistent
woman in his life"). As further proof of her cinema cred, DeWulf next stars in the indie movie The
Taqwacores, a story about Muslim punks living in Buffalo, New York.

Read More