Jay-Z, The Ramones and Hatebreed Headlining Fall's Movie Soundtracks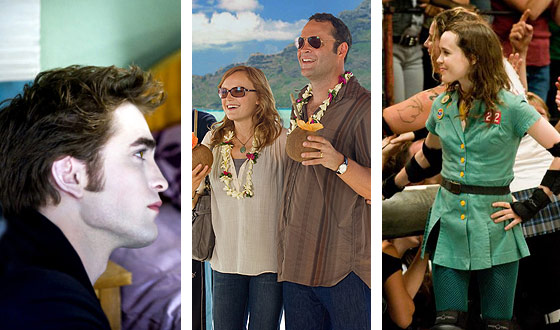 The Fall movie season is officially in full-swing, and along with it comes a solid set of soundtrack albums worth checking out. Whether you're into classic rock, punk, hip-hop, indie, or world music…if you're a movie and music buff, there's definitely a soundtrack here for you.

Girrl Power: Whip It
During filming, avid music fan (and first-time director) Drew Barrymore played all kinds of music on the set to keep the mood upbeat for her roller derby coming-of-age movie. Whip It's soundtrack album selects nineteen of the 75 songs heard in the film, culled together with the help of Wes Anderson's music supervisor, Randall Poster. It's an ADD collection of rebellious tracks including cuts from The Ramones, The Breeders, The Ettes, Dolly Parton, The Raveonettes, and .38 Special's classic "Caught Up In You." There's already talk of a second soundtrack album.

Tropical Tunes: Couples Retreat
The cast of this Vince Vaughn-starrer spent three weeks shooting the movie on the French Polynesian island of Bora Bora, so naturally the soundtrack is full of contemporary island-flavored selections. A.R. Rahman, the two-time Academy Award winning composer/songwriter of music for Slumdog Millionaire, composed the score and songs for Couples Retreat. It was Rahman's first time creating music for an American comedy, so he deliberately dialed back the Indian vibe heard in Slumdog.

Beats and Ballin': More Than a Game
An up-and-coming LeBron James and his high school teammates are the
subject of this basketball-as-life documentary that opened in select
theaters this past weekend. The creation of an all-star soundtrack was
part of the movie's distribution deal and this album definitely
delivers some wattage. Reporting for duty are hip-hop and R&B
heavyweights Jay-Z, Mary J. Blige, Drake, Kanye West, Eminem, T.I. and
Soulja Boy Tell'em.

Dark and Twisty: Saw VI
The sixth Saw
movie in as many years hits theaters just in time for Halloween and
promises to continue on its gruesome and gory path. The soundtrack
album is another chaotic companion to the ongoing story of Jigsaw, this
time featuring new and unreleased material from hardcore acts like
Hatebreed, Shadows Fall, Nitzer Ebb, Type O Negative, It Dies Today,
and Kittie. This is definitely not for yoga class.

Tweemo: The Twilight Saga: New Moon
The soundtrack for the tween vampire-loving sequel New Moon
is arguably this year's most highly-anticipated soundtrack album. The
film's music supervisor Alexandra Patsavas, known for placing music on
television shows like Grey's Anatomy, Mad Men and Gossip Girl,
has pulled together an impressive and eclectic lineup. On the album are
Radiohead's Thom Yorke, Grizzly Bear, Muse, Editors, OK Go, Bon Iver,
and the emperors of emo — Death Cab for Cutie — who snagged the
album's lead single "Meet Me on the Equinox." Last year's Twilight
soundtrack, also supervised by Patsavas, debuted at No. 1 on the
Billboard 200 album chart and has sold over two million copies.
Read More