Extend Your Jon Hamm Obsession to His Filmography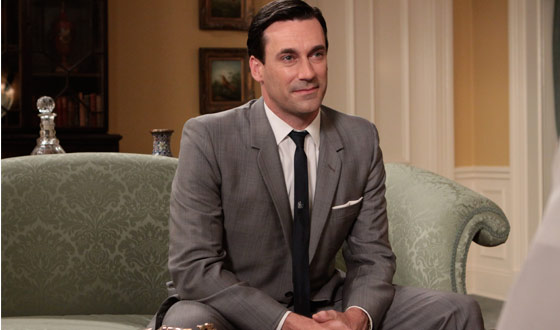 It may seem as if Mad Men's beloved Jon Hamm came out of thin air a couple years back. But in reality, you've probably seen his handsome mug before and just not realized it. Like the persevering Peggy Olsons and Pete Campbells of the world, Hamm paid his dues moving up the ladder. Would the casting directors have done better to give him more prominent parts given his success as Don Draper, ad man extraordinaire? Of course! Read on for a roundup of his early movie roles — the first tiny drops in a long, wave-making career.
Dr. Michael Granier in The Day the Earth Stood Still (2008)
In this scifi release, Hamm plays a NASA
scientist whose team is studying an alien who has taken human form on Earth. Strutting around in the blue-green light of his lab, Hamm assists
us in understanding the science in the story — including the most important discovery in the history
of mankind! (Which, according to Keanu Reeves, is not Mad Men.)
Skydiving Guide Chris Knarl in The Ten (2007)
There are worse men with whom to share a tandem
free fall than Don Draper. (That pipe-smoking Paul Kinsey, for one.) But the allure eludes Adam Brody, who forgets to grab hold
before leaping from the plane in this movie. Brody
should have at least strapped on his parachute,
which is what Hamm is left holding as Brody falls to the ground… yet not his death
Ronnie in Ira & Abby (2006)
In this indie comedy, Hamm is Ronnie,
the studly, long-haired (!) ex of Abby (Hamm's long-time love Jennifer Westfeldt). As Abby's husband Ira looks on, there's Hamm hugging Abby in
the restaurant or dancing with her
at a party. In 2006, Hamm was still a relative unknown. But he was still a ladies man and source of jealousy.
Captain Matt Dillon in We Were Soldiers (2002)
As clean-cut
Capt. Dillon, Hamm fights
alongside Mel Gibson in Vietnam. As is often the case in war pics,
Hamm's pretty face promptly disappears in the chaos of battle.
Dust and dirt, camouflage and combat boots take over. Unless we missed something, no dog tags are stolen this time around.
Red-Headed Cop in Early Bird Special (2001)
In this low-budget dark comedy, our hero moves up in the billing order to play a red-headed cop for director Mark Jean (Homecoming). Wait… Red-headed!? Is it not worth seeking out a copy of this rarity this very second just to see such a thing? Is Don pulling a Joan?
Charles in Kissing Jessica Stein (2001)
In this memorable cameo, Hamm plays the handsome, bespectacled blind date to Jessica
Stein (Westfeldt, again). When he gushes that he's
"met someone special," Jessica smiles and blushes even though he's talking about someone else. Or is he? This onscreen mismatch translated to a longstanding love
affair: Hamm and Westfeldt are going on ten years together.
Young Pilot #2 in Space Cowboys (2000)
Ninety-nine percent of the
frames in this movie are dedicated to four veteran pilots
(Eastwood, Jones, Sutherland and Garner). But in the black-and-white
flashback sequences, you might briefly recognize the familiar chisel-jawed face who's
"Young Pilot #2." Yes, that's Jon Hamm in his big screen debut. A
rather fitting introduction, in light of Tina Fey's astute and
flattering observation on 30 Rock: "He looks like a cartoon pilot!"
Mad Men airs Sunday nights @ 10PM | 9C on AMC. Click here for the show's schedule.
Read More