Death Proof Takes on Maximum Overdrive in the Death on Wheels Tournament Semifinals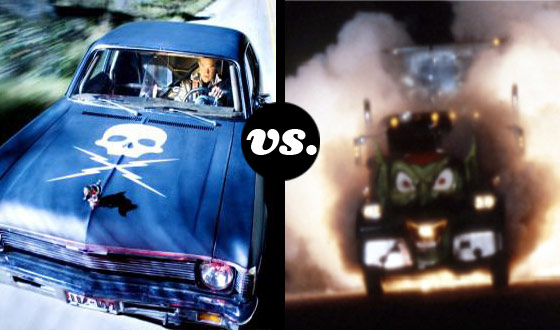 Stuntman Mike's third-seeded '69 Charger from Death Proof, which put a hurting on the 1955 Peterbilt from Duel, is going hood-to-hood with the No. 4-ranked Goblin Truck, that smilin' semi from Maximum Overdrive.
While few would call Maximum Overdrive "good," even fewer would say "Goblin Truck? Never seen it, what the heck are ya talkin' about?" That's because damn near everyone has seen this iconic vehicle, in movie trailers, in clips, on DVD, or (unfortunately) on an actual big screen.
Take a look for yourselves, fight fans. The trailers below give you some solid snippets of each contestant's automotive malice.
Maximum Overdrive theatrical trailer
Death Proof theatrical trailer
Goblin Truck, are you ready? Stuntman Mike-mobile, are you ready? Let's get it on!

Read More